Ex-GAA player Robert Edward Tasker jailed in kidnap case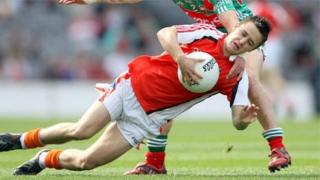 Two men, one of them a former Armagh GAA star, have been jailed for kidnapping and threatening to kill a Dundalk taxi driver.
Ex-player Robert Edward Tasker, 27, who was also convicted of drug offences, was sentenced to three and a half years in prison.
The judge told Tasker his "major addiction problem is his own ego".
Antion Eugene James McCooey, 25, will spend half of his six-year sentence in jail and the remainder on licence.
Tasker, who is well known in GAA circles, will spend three and a half years on licence.
Judge Melody McReynolds said it was a case typified by bullying and bravado against a vulnerable taxi driver who had hearing difficulties.
Stanley knife
In November 2016, the pair got into a taxi outside a takeaway in Dundalk to travel to Cullyhanna in south Armagh.
The pair, who live at separate addresses in St Patrick's Park, Cullyhanna, then began speaking in highly-sexualised terms.
When the driver said he was uncomfortable, the mood changed.
Tasker produced a Stanley knife and McCooey a screwdriver, and the pair demanded money.
During the trial, the court was told Tasker put the knife to the driver's neck, while McCooey made stabbing motions with the screwdriver.
Despite handing over his evening's takings of 120 euros (£105), the pair continued to threaten the driver.
They ordered him to drive to a church car park between Silverbridge and Cullyhanna. He refused and parked at the side of the road.
Another car passed and at this point the two men got out of the car and walked away.
'Past his best'
Prosecution said the victim was now suffering from post-traumatic stress disorder and that seven months after the kidnap, he gave up his job as a taxi driver.
The man told the court he thought he was going to die during the incident.
Det Ch Insp Will Tate of the PSNI said:
"This was a thoroughly traumatic incident for a man who was simply out doing his job, and I believe the sentence imposed at court today reflects the seriousness and gravity of the incident which has had a lasting impact on the taxi driver and his family."
Tasker received a sentence of five years, and a further two years after pleading guilty to a number of drugs offences including the possession and supply of cocaine and cannabis.
This arose after police searched his home during the investigation.
Tasker had received character references from coaches he had worked with at a club and county level.
"It is clear Mr Tasker is a very talented footballer who has to come to terms with being past his best," the judge said.