Portadown water safe to drink despite foul odour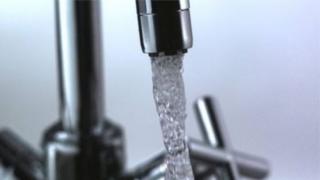 Northern Ireland Water has reassured residents in Portadown that their tap water "does not pose a risk to health" despite complaints about a foul odour.
Residents in Manderley Rise have complained of a bad taste and smell in their water supply.
NI Water has said the odour is the result of an algae bloom in Lough Neagh caused by recent high temperatures.
It has said the supply is safe to drink and has not indicated any plans to supply alternative drinking water.
The Portadown area draws its supply from Lough Neagh, with the water processed at Castor Bay Treatment Works.
It is unclear how long the unpleasant sensations may last, but NI Water has said "odour and taste issues may continue for a number of days".
Ulster Unionist MLA Doug Beattie described NI Water's response as "unacceptable".
He said he had been contacted by residents "concerned at the state of the drinking water coming into their homes, as it was foul smelling and had a strange taste".
"I am also told that this situation could be ongoing for some weeks and that whilst the water is foul I was told it was safe to drink and that NI Water had no plans to supply drinking water from an alternative source.
"This is not acceptable to me or to the Portadown residents affected by this situation.
"NI Water cannot simply sit back and leave residents with a water supply in its current state," said Mr Beattie.
In a statement, NI Water said it is "aware of and apologises for problems that may be affecting a few customers".
"Over the hot weather the raw water, which feeds Castor Bay Water Treatment Works, from Lough Neagh - contained higher than usual levels of algae which can cause an unusual taste and smell to water from the tap, but does not pose a risk to health," said a spokesman.
"The taste and smell can be earthy and musty.
"However, water from the tap can be used in the normal way."
The NI Water spokesman added that staff have been working to resolve the problem.
"While the remedial action being taken has resolved the issue at the plant, the odour and taste issues may continue for a number of days within the distribution network."