Politicians unite to demand dignity for terminally ill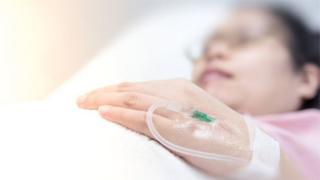 Six political parties have signed a letter calling for a fairer definition of terminal illness to be applied in the Personal Independence Payment (PIP) process.
The system requires people with a life expectancy of longer than six months to undertake a face-to-face assessment to prove they are terminally ill.
They can then face a wait of up to three months for payment.
The DUP, Sinn Féin, SDLP, UUP, Alliance and Green Party have signed the letter.
Politicians described the current system as "cruel, traumatic and lacking in dignity and compassion".
Charities and clinicians say the six-month definition most severely affects patients suffering from non-cancer terminal conditions, such as dementia, for which it can be difficult to predict an accurate life-expectancy.
In April, the Scottish government announced there would be no limit set on how long a patient has left to live before their condition was considered "terminal".
Instead medical professionals can use their own judgement to decide whether the illness is terminal, which will allow the patient to be automatically fast-tracked within the benefits system.
'Inhumane'
The letter to the permanent secretary of the Department for Communities calls on the department "to establish a working group to proactively engage with Scottish officials and other stakeholders to review the current definition".
It also asks the department to "begin the preparatory work required for the introduction of a similar fairer definition of terminal illness based on clinical need".
In April some of those in need of Personal Independence Payments in Northern Ireland lobbied officials at Stormont over a system described as "inhumane".
The Department for Communities, which is responsible for welfare payments, said it had heard moving testimony from those affected but it would be up to a Northern Ireland Executive to make any changes.
Northern Ireland has been without an executive since January 2017.