Team Ulster success at Special Olympics Ireland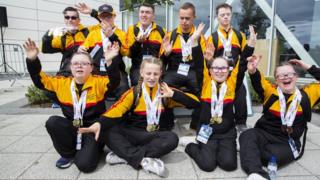 Team Ulster have collected a haul of more than 250 medals at the Special Olympics Ireland Games in Dublin.
In athletics, 21 gold, 15 silver and 11 bronze medals were secured.
The team's aquatics athletes obtained 18 gold, seven silver and seven bronze medals.
On Saturday, Team Ulster's gymnastics squad claimed 15 gold, six silver, and seven bronze medals in artistic gymnastics events.
Successful gymnasts included Patrick Quinlivan, 36, from Letterkenny, County Donegal, who claimed four gold medals; Sophie Carson, 13, from Donaghadee, County Down, who collected three bronze medals in her Ireland Games debut; and Jordan Kerr, 23 from Belfast, who won three gold and one silver medal.
There was further medal success in rhythmic gymnastics on Sunday, with Team Ulster's youngest athlete, Lucia Carrigan, 10 from Belfast, claiming two gold and one silver medal, while her teammate, Anna Joudeh, 15, from Belfast, won one gold and two bronze medals.
Head gymnastics coach, Anthony Monaghan described it as a "fantastic games".
"The atmosphere is amazing, the crowd have been really supportive, which really helped lift the gymnasts," he said.
"To walk away with these results makes all the hard work in the run up to it worth it.
"Words can't describe how proud I am of everyone; our gymnasts, coaches, families and supporters."
Team Ulster gymnast, Jordan Kerr, who competed in the floor, vault, rings, and parallel bars events, said he was delighted with his medals.
"It's hard work but I enjoy it; gymnastics is a great sport to be involved in and it's fantastic to represent Team Ulster," he added.
Four members of the Team Ulster badminton squad claimed gold medals.
Badminton head coach Willie McMillan said: "The guys have trained very hard and were well up for the challenge; three of the team play mainstream badminton and I am delighted with the standard of all of the team's badminton this weekend and I am so proud of their achievements.
"There has been a huge amount of support here in Dublin, the parents and families have been fantastic and Team Ulster have made a big impression - and a lot of noise - this weekend."
Some 273 Team Ulster athletes competed in the Special Olympics Ireland Games, with events taking place between Friday and Sunday, and featuring 1600 athletes in total.
Shaun Cassidy, regional director, Special Olympics Ulster, said he was "delighted with the experience and delighted that Team Ulster had been able to achieve so much."
Selected athletes from the games will go on to represent Team Ireland at the 2019 Special Olympics World Summer Games in Abu Dhabi.