Northern Ireland to get share of NHS money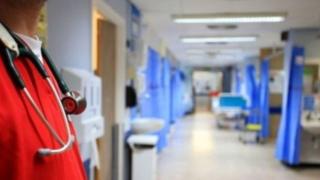 Northern Ireland is likely to receive an additional £600m a year in real terms by 2023 as a result of increased NHS spending in England.
The Prime Minister has announced the health service is to get an extra £20bn a year by 2023.
That will mean an automatic allocation for Northern Ireland, based on its UK population share of just over 3%.
However, a Stormont Executive, or direct rule minister, would not be obliged to spend the money on health.
Day-to-day spending on the health service in Northern Ireland in 2018/19 is due to be just over £5.3bn.
That accounts for just under half of all departmental public spending in Northern Ireland.
The additional funds will see NHS spending in England rise by 3.4% annually - but that is still less than the 3.7% average rise the NHS has had since 1948.
Analysis
BBC News NI Health Correspondent, Marie-Louise Connolly
England's health service is to receive a massive cash present to celebrate its 70th birthday.
But aren't the devolved regions celebrating 70 years of the health service too?
Northern Ireland, along with the other devolved regions, will get a smaller present. Local economists say that could mean an additional £600m by 2023.
But the devolved governments can decide how they would like to spend it. It does not mean it goes directly to health and social care.
While no doubt the Department of Health in Northern Ireland will stretch out the begging bowl again, the executive might decide to spread the cash around.
That brings us to another problem. Currently, Northern Ireland doesn't have an executive, so who will decide how the cash will be spent?
Of course the prime minister's cash present comes with a little bit of spin.
How much of this extra spending is above existing plans? Is it all entirely "new" money?
Health spending in England was due to increase by £2.6bn in cash terms anyway.
Northern Ireland, of course, is benefitting from the DUP confidence-and-supply deal.
Details of how much exactly has been released remain unclear.
The prime minister said this would be funded partly by a "Brexit dividend", but also hinted at tax rises.
In a BBC interview, Mrs May did not spell out how the £20bn a year would be funded but said: "As a country we will be contributing more, a bit more, but also we will have that sum of money that is available from the European Union."
But Commons Health and Social Care Committee chairwoman Sarah Wollaston described the idea of a Brexit dividend as "tosh".
The Conservative MP accused the government of using "populist arguments rather than evidence".