Foster meets Fermanagh GAA team ahead of Ulster final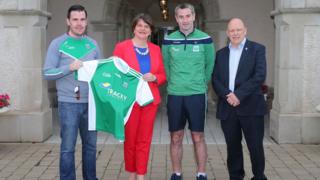 DUP leader Arlene Foster has met with members of the Fermanagh GAA (Gaelic Athletic Association) team ahead of their Ulster Senior Football Championship final next weekend.
Mrs Foster brought with her a good luck card and signed it "from a proud Fermanagh woman to her neighbours".
Fermanagh face Donegal in the final in Clones, County Monaghan, on 24 June.
Mrs Foster said a decision to attend had not been made yet and added "we will wait and see".
She told Irish broadcaster RTÉ that she has been saying to members of her own party and support base that it is important to reach out the hand of friendship to "our neighbours".
The assembly member for Fermanagh and South Tyrone said "that's what I am trying to do".
Mrs Foster was presented with a Fermanagh team jersey by members of the county board.
She was also photographed with the Fermanagh senior team manager, Rory Gallagher, and members of the county board.
The meeting took place at the Lough Erne Resort Hotel on Saturday evening, where a team gathering took place after a training session.
Fermanagh have yet to win a Senior Ulster football title.
In 2012, the then DUP leader, and Northern Ireland First Minister, Peter Robinson, attended a Dr McKenna Cup GAA final between Tyrone and Derry, along with the then Deputy First Minister, Martin McGuinness.
It was Mr Robinson's first gaelic football match and at the time his DUP colleague Gregory Campbell described it as a "symbolic gesture".