DUP living in fools' paradise, says Michelle O'Neill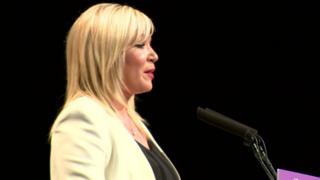 Sinn Féin's vice-president Michelle O'Neill has launched a strong attack on the DUP, claiming the party is "living in a fool's paradise".
Ms O'Neill was making her first speech to an ard fheis (party conference) since taking up the role.
She said the DUP puts its "self-serving pact with the Tory party at Westminster before people's interests here".
She added they "blindly prop up Theresa May who is preoccupied with negotiating with her cabinet rather than the EU".
The DUP and Conservatives agreed a "supply and confidence" arrangement following the general election in June last year.
Speaking on Friday night, Mrs O'Neill said: "Britain is divided. But in Ireland, we are united.
"We will not be collateral damage as a result of the reckless Tory/DUP Brexit agenda. There will be no border in Ireland."
As part of the DUP/Tory deal, the DUP guarantees that its 10 MPs will vote with the government on the Queen's Speech, the Budget, and legislation relating to Brexit and national security.
The deal included an extra £1bn in public spending for Northern Ireland.
Analysis: Gareth Gordon, BBC News NI political correspondent
---
The party's new vice-president, Michelle O'Neill, got her biggest cheer of the night when she said: "Surely you agree it is time for a woman taoiseach to lead the next [Irish] government?
"And surely you know that woman is Mary Lou McDonald?"
Sinn Féin is not in government in the Republic of Ireland. But its President, Mary Lou McDonald, has made it clear she wants it to be.
Michelle O'Neill's second biggest cheer came when she attacked the DUP, the party Sinn Féin would be in government with in Northern Ireland, if only they could agree.
She told delegates in Belfast's Waterfront Hall: "The DUP do not speak for the people of the north."
The main business of this weekend will be to safely chart a way through a subject which has caused Sinn Féin difficulties - as it has all parties - abortion.
Following the recent referendum in the Republic of Ireland, the leadership has backed a motion that says abortion should be available to women within "a limited gestational period".
But more than 20 branches have tabled another motion, arguing that all party members should be allowed to speak and vote about abortion according to their consciences, a policy which has been adopted by some other parties, including the SDLP.
---
After 34 years of Gerry Adams as president, Saturday will be the first ard fheis for the party's new leader Mary Lou McDonald.
The focus will turn to the party's policy on abortion following the recent referendum in the Republic of Ireland.