Belfast hospital: Ex-nurse sexually assaulted teenage patient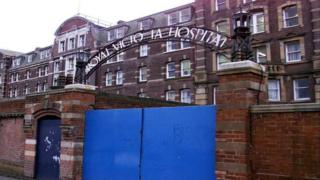 A former nurse at Belfast's Royal Victoria Hospital has been given a two-year probation order for indecently assaulting a teenage boy.
Charles Watson, 83, of Carlston Avenue, Holywood, pleaded guilty to two counts of indecent assault on a patient.
They happened on dates between December 1984 and January 1987.
The victim was a patient at the hospital's Genito Urinary Medicines unit after contracting a sexually transmitted disease.
Watson was working there as a clinical nursing supervisor.
During a testing procedure, he sexually assaulted the 16-year-old for about three minutes.
On a later occasion, the teenager was referred back to the same unit after contacting another sexually transmitted disease and was again indecently assaulted by Watson.
"He knew what was being done to him was wrong, but it was not until 1998 that he told a close friend,'' a prosecuting barrister said.
Confronted by victim
The court heard that in September 2016, the victim got work doing repairs at a house in Holywood and realised that the owner of the house was the nurse who had sexually assaulted him two decades previously.
The prosecutor said the victim "confronted'' Watson about the sexual assaults and the defendant replied: "I agree.''
A defence barrister said Watson was "genuinely remorseful'' for the distress he had caused his victim.
"We accept that this is a breach of trust case and the impact it has had on the victim,'' he said.
He told the court that Watson was a "homosexual himself'' who had to hide his sexuality in his early years as it was illegal, but that Watson had been in a relationship for more than 50 years.
Watson had worked in the health service for 30 years and was described by his senior colleagues as having a good work record, the barrister said.
As a result of his guilty plea, the court heard that Watson had to resign from his voluntary work with his church.
The judge told Watson that he was treating the offences as a breach of trust case.
He said that another aggravating factor was the age difference between the defendant and the complainant.
The court heard that Watson was assessed by the Probation Service as low risk of reoffending and posed no danger to the public.
As well as the two year probation order, Watson was also made the subject of a notification period for the next five years.