DUP leader's 'hand of friendship' at Eid celebration in Belfast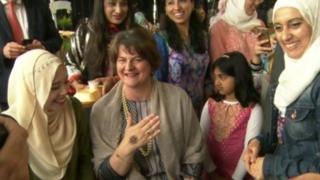 Arlene Foster has said she wants to "reach out the hand of friendship" to Muslims as she attended a celebration of the Islamic festival Eid al-Fitr.
The leader of the Democratic Unionist Party (DUP) joined hundreds of people at the event in Belfast on Friday.
She was among a group of politicians who met local Muslim community leaders.
Eid al-Fitr is celebrated annually by Muslims around the world at the end of Ramadan, a month-long period of fasting between dawn and sunset.
The word 'Eid' means 'feast' or 'festival' and 'Eid al-Fitr' means 'festival of the breaking of the fast'.
The celebrations traditionally involve a shared meal, prayers and the exchange of small gifts.
The south Belfast event was held in a former DIY shop on the Boucher Road, but the disused B&Q store was given something of a makeover by festival organisers.
It was transformed into a sea of colour and noise as the smell of cooking filled the warehouse.
The DUP leader attended the event along with the party's South Belfast MP, Emma Little-Pengelly.
"I very much wanted to come along and celebrate Eid here today and reach out the hand of friendship because there are so many of our Muslim brothers and sisters living in Northern Ireland now," Mrs Foster said.
"They are a minority community now. I want to say they are welcome here."
Sinn Féin's South Belfast MLA Máirtín Ó Muilleoir was also there to show his party's support.
The politicians were warmly received and spent an hour meeting community leaders and local Muslim families.
During the event, Mrs Foster had a temporary henna tattoo stencilled onto the back of her hand and posed for selfie photos with festival goers.
The DUP representatives were escorted around the building by Dr Raied Al-Wazzan from the Belfast Islamic Centre and by other civic leaders.
Dr Al-Wazzan said the visit happened after the DUP asked if they could come along to the celebrations.
"We are delighted to have them here," he said.
"This is outreach from the DUP to the Muslim community and I am sure you have seen how many people have welcomed them here."
DUP apology
Four years ago the former DUP leader Peter Robinson caused controversy when he defended a pastor who had called Islam "heathen" and "satanic".
Mr Robinson told The Irish News he would not trust Muslims involved in violence or those devoted to Sharia law but would "trust them to go to the shops" for him.
Mr Robinson later said his remarks had been misinterpreted, and he met Muslim leaders in Belfast to apologise.