Wild goose in Lurgan Park tests positive for bird flu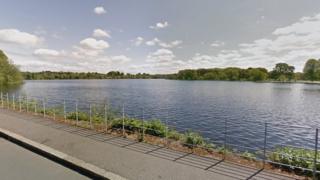 A goose in County Armagh has tested positive for bird flu, the Department of Agriculture, Environment and Rural Affairs (DAERA) has confirmed.
The wild greylag goose was found dead in Lurgan Park on 8 June.
This is the second positive wild bird flu finding in Northern Ireland in 2018.
The first was in March, when a wild buzzard was discovered in County Antrim. Both birds tested positive for the H5N6 strain of the disease.
'Low risk to poultry'
The chief veterinary officer for Northern Ireland, Dr Robert Huey, said the finding was "not unexpected".
"It further emphasises the requirement for all bird keepers to remain vigilant and to critically review their biosecurity measures, for example, feeding and watering birds under cover to help reduce the risk of their poultry coming in contact with wild birds.
"It is important that flock keepers report early any suspicions of disease.
"While the risk of an avian influenza incursion in wild birds remains, the risk to poultry is low. However, it is essential that we take the necessary steps to protect our poultry industry, international trade and the wider economy."
The Public Health Agency said the risk to public health from the virus is very low, but that members of the public should take biosecurity precautions before touching birds that appear to be dead or sick.
Members of the public are encouraged to report dead waterfowl, such as swans, geese, ducks to DAERA.