Robert Nairac: Army captain IRA victim 'likely buried'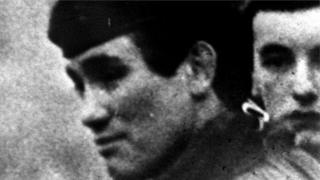 The lead investigator of the Commission for the Location of Victim's Remains is "absolutely satisfied" the body of Captain John Nairac was buried.
The Army officer was abducted by the IRA while on an undercover operation in a pub in South Armagh in 1977.
It is believed he was beaten and then shot dead.
Geoff Knupfer spoke to BBC News NI after the brother of an IRA man urged those with information about the remains of Capt Nairac to come forward.
John Francis Green, an IRA member from Lurgan, was shot dead in a farmhouse in County Monaghan in January 1975.
On Wednesday, his brother Leo Green said he empathised with the Nairac family.
He said: "My brother is buried, we have a place we can go to. We can lay flowers, say a prayer and just reflect.
"The Nairac family have none of that. And we think very much that they are entitled to that."
Lead investigator Geoff Knupfer also told Good Morning Ulster that Leo Green's call for information could be of "potentially great benefit" to his own search for Robert Nairac's remains.
Robert Nairac was one of 16 people abducted and murdered by republicans during the Troubles.
So far, remains of 12 of the 16 who disappeared have been recovered.
Capt Nairac's body has never been found and there has been much speculation about the disposal of his remains.
'Buried, not disposed of'
However, speaking on Good Morning Ulster on Thursday, investigator Geoff Knupfer disputed these rumours.
"We are absolutely confident that the body could be retrieved," he said.
"We have been assured by people who would know that he was buried, and not disposed of.
"At the end of the day this is not about Robert Nairac, this is about returning his remains to his family."
Ulster Unionist MLA Doug Beattie welcomed Leo Green's comments, telling Good Morning Ulster: "Myself and Leo Green have very different narratives... but he has gone out and called for information for the whereabouts of Robert's body.
"That is showing real compassion."