Paper review: School gates to social media, Lord mayor row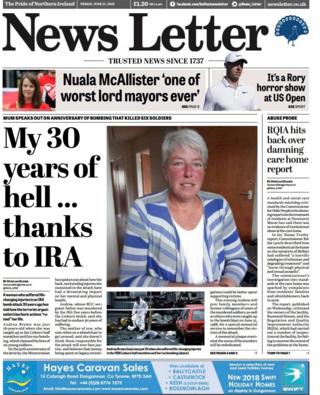 An unusual case takes centre stage on The Irish News.
A County Tyrone teacher has settled a libel case over a parent's comments on social media, the paper reports.
Roisin Corr, head of music at St Joseph's Grammar School in Donaghmore, took the action over "unfair and derogatory remarks".
It's understood no financial compensation was sought but an apology from the defendant was read in court as part of the settlement.
Mrs Corr says she's relieved and looks forward to returning to teaching.
There's some speculation that the "unprecedented case" could lead to more teachers seeking legal action over online posts.
According to INTO teachers' union spokesman Mark McTaggart, such comments are becoming "major issues," with the "school gates moving onto social media".
'Never asked for forgiveness'
"My 30 years of hell... thanks to the IRA" - The News Letter speaks to a victim of an IRA bomb attack, on its 30th anniversary.
Andrea Brown was 18 when she was caught up in the Lisburn half marathon and fun run bomb which killed six soldiers in 1988.
She tells the paper that as well as neck, leg and arm injuries, she has endured mental health problems which she describes as "far worse than the physical".
Ms Brown's father had been murdered by the IRA five years before the blast.
She believes money for legacy investigations would be better spent on supporting victims.
"I'm past the anger stage, but I can't forgive," she says.
"These people have never asked for forgiveness and you can only forgive someone who is sorry."
In the Belfast Telegraph it's claimed that a care home subject to a damning report by the Commissioner for Older People has received £4.6m from the NHS since 2014.
On Wednesday it emerged that the investigation into Dunmurry Manor found a "horrific catalogue of inhuman and degrading treatment".
Now the paper claims the firm has received almost £25m from four health trusts in the past decade.
The trusts provided the information in response to an FOI request, but the papers says the exact figure is unknown as the Northern Trust "refused to reveal its expenditure".
It says the information is "commercially sensitive and it is not in the public interest".
The paper has been gauging opinion on the pope's visit to Ireland in August.
What better place to do it that the Clonard Novena in west Belfast, where hundreds gather for the nine days of special services?
Retired nurse Ethna McGurk, 81, says she's disappointed he isn't coming north of the border.
"We won't be going to see him.
"We're too old and at £85 a ticket, we couldn't afford it. It will be on TV for free."
However parishioner Paul Chapman, 25, tells the paper he is hoping to travel to see Pope Francis, just like his grandparents did in 1979 for Pope John Paul II.
'Worst lord mayor'
There's quite the accusation in the News Letter - A UUP Alderman has described former Belfast mayor Nuala McAllister as "one of the worst ever".
The Alliance councillor ended her term last month, but Jim Rodgers wasn't impressed with her, saying she "failed to remain impartial" on issues like same-sex marriage and abortion.
"The lord mayor is a civic leader and they are there to represent the whole community," says Jim.
"Sadly Nuala McAllister was one of the most political mayors that I've ever come across."
He added that she also refused to read from the bible at meetings.
"There were things during my two terms as mayor that I wasn't happy with but for the good of Belfast I did them."
The Alliance Party says Ms McAllister represented everyone.
"This persistent, petty and small minded criticism aimed particularly at a young female councillors says more at those who engage in it than anything else," it added.
Scooter enthusiasts
There's a touch of Italian glamour in The Irish News.
On Thursday 3,000 Vespa enthusiasts scooted into Belfast for the annual "Vespa World Day" extravaganza.
There was even a a specially constructed village in the Titanic Quarter.
The high winds from Storm Hector didn't put the international visitors off and the paper shows pictures of them happily posing on their colourful scooters.
Bellissimo!