Queen's University Belfast opens £7.5m manufacturing facility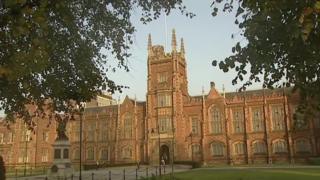 Queen's University Belfast has opened a new £7.5m advanced manufacturing facility, which aims to help Northern Ireland companies improve productivity.
It will allow manufacturers to experiment with high-end equipment and get access to the latest research.
It will also provide Northern Ireland with a regional link to other manufacturing research networks.
The centre has been supported by the UK Department for Business, Innovate UK and the Aerospace Technology Institute.
It will have a particular focus on aerospace technologies, but is open to other sectors.
Its launch industry partners include RLC Global Point, Moyola Precision Engineering and JW Kane Precision Engineering.
Professor Mark Price, pro-vice chancellor for the faculty of engineering and physical sciences at Queen's, said: "This is a great example of industry, government and academia working in partnership to move Northern Ireland forward."
"It will enable the local industry to be more competitive through the optimisation and digitisation of manufacturing processes, including automation.
"It also paves the way for more productive, flexible, resilient, responsive and energy efficient manufacturing systems and associated supply chains. "