Teen road deaths: Police advised to switch off phones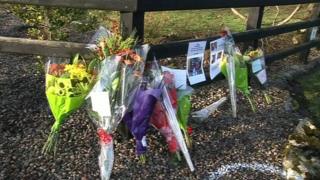 The PSNI has emailed all serving police constables telling them to switch off mobile phones seized from drivers in serious traffic accidents.
The details were revealed on the last day of the inquest into the 2008 deaths of two schoolchildren.
Debbie Whyte, 14, and Nathan Gault, 15, were knocked down in County Fermanagh.
A mobile phone expert previously told the court that the phone seized from the driver involved may have been corrupted because it was left on.
It emerged that while in police custody, that phone received five calls and 10 texts, which meant any calls which may, or may not, have been deleted by the driver of the car could not be found.
The inquest had previously heard that the senior investigating officer in the case admitted mistakes had been made in not properly isolating the phone.
Officer in tears
Earlier, an emotional police sergeant in charge of the initial investigation said she got the time of the collision wrong.
Sergeant Melanie Hicks said she thought the time Debbie and Nathan were hit was about half an hour after they were knocked down. In tears she said: "Unfortunately it wasn't the right time. I accept that."
She also told the court she had never received any training in regard to mobile phones.
Sgt Hicks was sent to the scene as the investigating officer after the body of Nathan was found in a hedge on the Croaghrim Road in Florencecourt in November 2008.
A barrister for the coroner asked her if it was a mistake not interviewing a bus driver to establish the time the children were dropped off and so estimate the time of the crash.
Sgt Hicks said: "Knowing what I know now, absolutely yes."
Two specialist accident investigators, including Emerson Callender who carried out tests on the road where the children were killed, said they believed the driver of the car was travelling at just over 40mph.
They said they believed the driver of the car, which they said was travelling on dipped headlights, would not have had enough time to avoid the collision.
They added that they believed Nathan, Debbie and another boy who survived, were walking side-by-side in dark clothing on the driver's side of the road with their backs to the car.
Debbie Whyte was hit by the front of the car. Her body hit the front windscreen and went over the vehicle.
Nathan Gault, they said, was hit by the side of the car and was propelled into the garden hedge of what turned out to be his aunt's house where his body was later found.
The coroner is now considering her verdict which she will deliver at a later date.