Stormont's pro-remain parties demand post-Brexit rights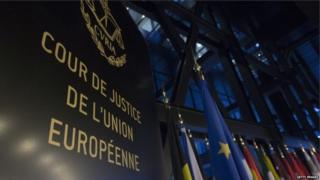 Four Stormont parties have published a statement demanding that people in NI must continue to enjoy all the rights and safeguards set out in the Good Friday Agreement after Brexit.
The statement, issued on behalf of Sinn Féin, the SDLP, Alliance and the Greens, argues that people here must have direct access to the courts "relating to any alleged breach of relevant guarantees".
It said that, with this in mind, the European Court of Justice should continue to be recognised.
This is the second joint statement issued by Stormont's pro-Remain parties.
In May, they argued that Northern Ireland should remain in the single market and customs union after Brexit.
The four political parties said there should be no hard border on the island of Ireland, or between Ireland and the UK.