NI agriculture group denied Brexit body seat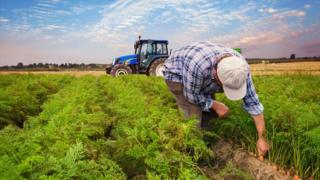 Fruit, flower and mushroom growers were denied a seat at a Northern Ireland Brexit body, MPs have been told.
The chair of the Horticulture Forum told a Westminster committee that a request to join a departmental steering group had been turned down.
Dr Barbara Erwin said she had asked a senior civil servant but had been told they were a small group.
A department spokesman said the producers were represented by others on the steering group.
A mushroom industry representative said 23 businesses she spoke for, had significant concerns about the future of their industry.
Elaine Shaw told the Northern Ireland Affairs Committee inquiry on the impact of Brexit on agriculture that their produce was crossing the border without impediment at present.
She said if the United Kingdom was left in a "no deal" scenario they would face a combination of tariffs and plant health checks that would make it "unsustainable".
North Down MP Lady Silvia Hermon said it appeared to be a "glaring omission" that the Horticulture Forum had not been granted a seat on the Brexit body.
The committee also heard from a representative of the potato industry in Northern Ireland.
'Sooner rather than later'
Ian Duff said there were around 450 growers with the work concentrated around 33 major producers.
He said there was concern about the potential impact of Brexit on the seed potato trade to the Irish Republic.
Mr Duff said it was a major export market but the EU banned importation of seed potato from non-EU member countries.
Potato growers hoped a deal could be negotiated to circumvent the ban, but needed certainty "sooner rather than later".
He also said there could be an impact on the table potato sector with produce sourced in the Irish Republic, processed in Northern Ireland and sold back to the retail trade in the south.
The issue of the availability of workers was raised before the committee.
Elaine Shaw said there was a heavy reliance on staff from Eastern Europe and the mushroom industry was keen to see government proposals to address the issue of migrant labour.
She told the committee that the Republic of Ireland had just begun a scheme to attract non-EU nationals from Ukraine to work in the Irish horticulture industry.
Ian Paisley MP suggested a new agriculture policy might make it possible to target support payments to sectors such as potatoes, mushrooms and other horticulture.
Mr Duff said such "tailored schemes" might be possible and would be welcome.
A spokesman for the Department of Agriculture, Environment and Rural Affairs (DAERA) said that the Horticulture Forum had requested representation on the department's Brexit stakeholder group at the end of February 2018.
"The department has been operating a Brexit stakeholder group since June 2016, when it was established by the then minister.
"The interests of primary production sectors are represented by the Ulster Farmers Union and the Northern Ireland Agricultural Producers Association."