Majority surveyed in favour of NI remaining in the UK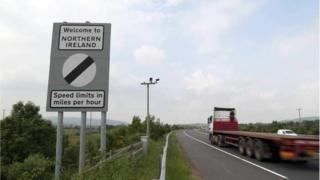 Latest figures from the Northern Ireland Life and Times Survey suggest there is still a substantial majority in favour of Northern Ireland remaining in the UK.
The survey, which was set up by Queen's and Ulster Universities, found that 55% of those interviewed would vote for Northern Ireland to remain in the UK.
This compares to only 22% who said they would back a United Ireland.
Last week, the BBC published a survey that suggested a much tighter race.
Responding to the Northern Ireland Life and Times Survey, 12% said they would not vote and the remaining 10% said they did not know how they would vote.
In total, 1,203 adults aged 18 years or over were interviewed face to face between September 2017 and February 2018.
Different numbers
According to the BBC's survey on identity, which was carried out by the Belfast pollsters Lucid Talk, only 47% of people in Northern Ireland identified themselves as strongly British.
The online and telephone survey said that 45% of respondents backed staying in the UK and 42% favoured a United Ireland. This left undecided voters potentially playing a crucial role.
Last month, an Ipsos Mori poll conducted face to face indicated that 50% favoured staying in the UK, whilst only 21% backed a United Ireland.
Some 33% of those interviewed for the Life and Times Survey said that they think Brexit has made a United Ireland more likely, whilst 9% believe it has made it less likely and 43% believe it makes no difference.
Asked whether Northern Ireland will be financially better off when the UK leaves the EU, 41% disagreed and 18% agreed.