Marshals on full-time alert at Belfast fire risk flats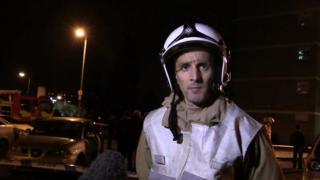 Fire safety marshals will be on alert 24 hours a day, seven days a week at a Belfast tower block which is to close because of safety concerns.
Sixty people, many of them elderly and vulnerable, have been told they must leave their homes in Block B, Russell Court, on the city's Lisburn Road.
All of the residents will be moved out within four weeks.
In the meantime, marshals are on duty full-time to ensure that everyone remains safe.
The fire alarm system in the building has been enhanced and water services and emergency procedures have been checked.
The tower block is owned by Radius Housing who took the decision to close it after a group of experts reported a significant shortfall in fire safety measures at the building.
Geoff Somerville, group commander at the Fire and Rescue Service, told BBC NI's Good Morning Ulster on Wednesday, that he was confident the measures taken had reduced fire risks significantly.
"The decision taken to evacuate the building is the correct one," he said. "Radius are confident they cannot upgrade while residents are present."
Mr Somerville said it was most important to address residents' concerns and to ensure they remained safe at all times until they left their homes.
"I am very confident that the risk has been significantly reduced by enhancing the fire alarm service, the provision of fire safety marshalls 24/7 on site and the provision of advice to residents."
He said a decision had also been taken to evacuate the whole tower block simultaneously during a fire alarm as opposed to the normal "stay-put" policy for this type of building.
Meanwhile, residents face an anxious search for new homes after they were told they would have to quit the building over safety concerns.
Some people have lived in the tower block since the 1980s and are shocked at the news that they must leave.
Among them is Paddy Scully.
"I've been here 30 years and all of a sudden you find yourself at a loss, you don't know what to do. It's quite difficult," he told BBC NI's Good Morning Ulster.
"The strange thing about it is this. There has been so much renovation and, very recently, we have had all the floors recovered, all the walls repainted, fire alarms put in.
"Each individual apartment has had a fire alarm put in. It's hard to grasp that somebody can say: 'Well, the fire department has said this is not liveable in.' And that's it.
"You say, 'Hang on a second, it was okay for 30 years, what's changed?'"
George Hill has lived in Block B for five years. The news that he would have to move came as a shock.
"I was coming out at 10 O'Clock this morning having just woken up and hearing the door being rapped," he said.
'Serious concerns'
"I poked my head out, there was my landlord standing there. They said they had been informed by the fire service after an independent review that the building wasn't safe."
He said fire inspections had taken place and there had been a lot of changes and updating of the apartments.
"With all the changes they had made and updated, there shouldn't have been a problem," he said.
Radius Housing, which owns the tower block, said a survey it carried out in April raised "serious concerns" regarding the long-term occupation of Block B and "its capacity to meet modern fire safety requirements".
A spokesperson said a lot of housing associations and residential providers over the last 12 months were reflecting on safety following the Grenfell Tower tragedy last year.
"We engaged a team of consulting engineers, there was a mixture of mechanical, electrical, fire protection and structural engineers," he said.
"What they found out was there were shortcomings in terms of the compartmentalisation of the building. There were issues with the structure, the fabric and the services.
"When we layered those risks on top of one another, we consulted with the engineers, but we were left with no decision but to have to vacate the building."
The Northern Ireland Fire and Rescue Service is providing safety advice and reassurance on site to those living in the block.