Customer fury over Irish Ferries cancellations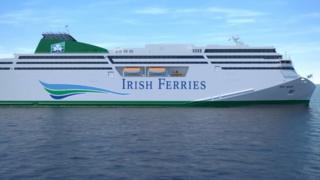 A high number of Irish Ferry cancellations has sparked anger and frustration among affected customers.
One customer said they had no intention of travelling with the company again.
Another customer is worried she will be unable to get a cabin with a window for her claustrophobic daughter on an alternative ferry.
On Tuesday, Irish Ferries cancelled 6,000 bookings - affecting about 19,000 people - between Ireland and France.
It said cancellations are due to a delay in building its new ship, the WB Yeats.
Customers have expressed concern over the handling of the issue by Irish Ferries' customer service.
Linda Patterson: 'We've to pay for other hotel to put us up'
Linda Patterson, 40, booked to go on holiday for a week with her family in August.
She paid €1,100 for her family of five from Tyrone to travel from Dublin to Cherbourg because it was the best option when travelling with her toddler.
Ms Patterson said she had tried getting through to Irish Ferries' customer service in Dublin, but the lines were cutting out after 20 mins.
She eventually got through to Liverpool.
"They were very unhelpful. When I asked them whether I could use the €150 towards accommodation they said no," she said.
"I don't want €150 off a journey next year. I have no intention of travelling with Irish Ferries next year.
"The man then told me that he was going to end the call, that he couldn't help me any further, and he hung up on me."
Joyce Agnew: 'I'm trying to get an alternative crossing'
Joyce Agnew, 42, paid £700 for her husband and two children to sail to France for a week long holiday.
The Ballymena woman received the cancellation email from Irish Ferries on Tuesday evening.
She said she is worried that she will not be able to get a cabin with a window for her daughter who suffers with claustrophobia.
"I'm looking to see if I can get an alternative crossing," she said.
"I'm devastated because we can't fly because my daughter is claustrophobic and we did everything right."
Ms Agnew said that she expects she will have to pay for additional accommodation too.
Laura Dunne: 'We weren't getting any answer'
Laura Dunne, from County Meath, was due to travel with her family to France, but found out that her outward trip had been cancelled.
She said they are €700 out of pocket after rebooking with a different ferry company.
"My partner received an email letting us know that all the sailings had been cancelled, then we tried to call for about an hour - but we weren't getting any answer," she said.
"We tried through Twitter but didn't get any response. We ended up booking through another company, as we had already booked the campsites.
"It cost us €350 extra and my parents the same.
"We don't know when we're going to get our money back, so that's the main thing - when are we going to get our money back now?"
She added that her mother had contacted Irish Ferries on Monday, a day before the cancellation, to ask whether the sailings would be going ahead.
"They told her there was no issues with the sailing so she made the full payment on her holiday. And, obviously, she found out today that wasn't going ahead."
Email to customers
In an email sent to affected customers, Irish Ferries offered them space on its Oscar Wilde ferry close to their booking date or a "land-bridge option", where the customer can sail from to the UK from either Dublin or Rosslare and then on to France.
Customers who choose that option will be reimbursed the cost of their fuel requirements from their port of arrival in the UK to the port of arrival in France, the email said.
If neither the Oscar Wilde nor the land-bridge option is acceptable, the email said customers would be entitled to "a full and immediate refund of all monies paid".
"As a valued customer of Irish Ferries, we would also like to offer you a €150 electronic voucher which can be used at any time on our Ireland-France routes next year," said the email.
Irish Ferries has also added seven return journeys of the Epsilon ferry from Dublin to Cherbourg.
Late delivery
Flensburger Schiffbau-Gesellschaft & Co KG (FSG), the German shipbuilder building the WB Yeats, said the delay was due to late delivery of "interior components for public areas and on the electrical system installation in the hull and deckhouse".
A spokesperson for Irish Ferries said the company had considered chartering another ferry, but "as it is the busy summer season there are none available".
It is not the first time the delivery of the ship has been delayed.
Irish Ferries was previously forced to cancel 2,500 July bookings in April.