Prince Charles in Omagh on day two of NI visit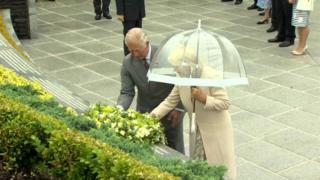 The Prince of Wales has visited the Garden of Remembrance in Omagh, County Tyrone, on the second day of his visit to Northern Ireland.
He and his wife, the Duchess of Cornwall, laid a wreath with flowers from Hillsborough Castle Gardens.
The Real IRA attack in 1998 killed 29 people, including a woman pregnant with twins.
The pair also met relatives of some of those who died and visited the site of the atrocity.
Earlier, Prince Charles arrived in the town by helicopter before visiting the Omagh Hospital and Community Care Complex.
The new complex opened less than a year ago and replaced the Tyrone County hospital which cared for those injured in the Omagh bomb in August 1998.
At the new hospital on Wednesday morning, staff gathered to watch the royal couple arrive.
Hospital worker Claire Boyle said: "It's an important day for us. It's good to see the work here being acknowledged."
The new complex also houses a range of services including four GP practices and mental health teams.
Later, the Prince and the Duchess of Cornwall visited Owenkillew Community Centre in Gortin, County Tyrone before returning to Omagh.
Prince Charles began his trip to Northern Ireland on Tuesday with a visit to Coleraine and north Belfast.