BBC Spotlight's mock rape trial explores issue of consent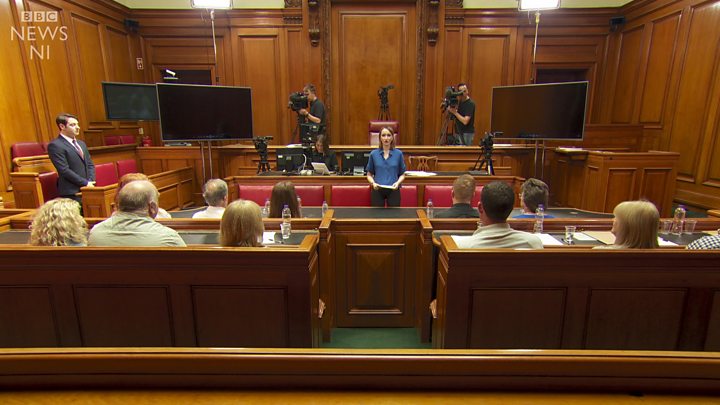 A sexual encounter, two conflicting accounts, and an allegation of rape form the bones of a debate around the issue of consent.
In a one-off television event, BBC Spotlight stages a fictitious scenario and we ask a jury to determine whether a defendant is guilty or not guilty.
In a specially-extended 60-minute programme, BBC Spotlight brings jurors of six women and five men to the Royal Courts of Justice in Belfast, where they witness the accounts of a complainant and defendant.
Two actors play Nicola and Andrew - a pair in their 20s, who have connected through a hook-up app - meet for drinks and end up in bed together.
According to Andrew, the sex was consensual. But for Nicola, it was rape.
We show how two perspectives of one encounter can be completely at odds and the difficulty jurors in real rape cases face in grasping the true meaning of sexual consent.
It comes two months after rugby players Paddy Jackson and Stuart Olding were acquitted of raping the same woman at the end of what was one of Northern Ireland's longest-running criminal trials.
As our jurors hear Nicola and Andrew's opposing perspectives of how the night progressed, they are shown evidence - such as CCTV footage, photographs and mobile phone content - that might help or hinder the defendant's case.
In our scenario, which is based on extensive consultation with barristers who have prosecuted and defended rape trials over many decades, Nicola sends flirtatious texts and a provocative picture to Andrew before they meet up.
And our jurors ask: Is that consent for sex?
Andrew goes out expecting sex. After the pair get drunk in the bar and end up "all over each other" - is he reasonable in thinking: "I'm in there"?
Our jurors also see interviews with our expert witnesses, who unpick the different elements of consent relevant to the crime of rape.
The experts help the BBC Spotlight jury to understand three things: Did the couple have sex, did Nicola consent, and did Andrew have a reasonable belief in her consent?
As one of them reveals, it is entirely plausible that we might believe both parties.
And therein lies the problem: Rape is often a case of "he said, she said".
But our jury is tasked to make a decision - acquit Andrew, or find him guilty and condemn him to a minimum prison sentence of seven years.
We hear from 30-year-old Glenn from east Belfast, who picks up on inconsistencies in Nicola's account, and questions: Can we accept her testimony as credible?
Retired teacher Sadie from Enniskillen asks her male juror counterparts to put themselves in Andrew's position and imagine if they could ever reasonably believe Nicola wanted sex.
While father-of-two Connor questions whether the onus should always be on the man to ask for consent - he ask if women should verbalise it.
Our jurors go on a journey of twists and turns as they debate the issue of consent.
One of them states: "He himself says she didn't say no", which is met with an immediate reply of: "She didn't say yes".
They debate the impact of alcohol on our inhibitions and our inability to remember key moments of drunken encounters, and explore whether intoxication can be a mitigating factor in rape.
Before they enter their deliberations, we urge them to abandon any preconceived notions they may already have about gender and sexuality.
In its Policy for Prosecuting Rape Cases, the Public Prosecution Service (PPS) warns against so-called rape myths influencing decisions in the courtroom.
The idea is that jurors might already have preconceptions about what a rape should look like, and when confronted with the reality, it doesn't tally.
Some campaigners argue this is why jurors struggle to accept, for example, that a seemingly "normal" perpetrator, who doesn't use force on an alleged victim, might be a rapist.
It is a high bar to reach and that may explain why our conviction rates are so low, some suggest.
According to the PPS, there were 415 reports or charges of rape last year in Northern Ireland. Only 64 made it to court, and of that, just 15 defendants were found guilty.
These rape myths include stereotypes like "rape occurs between strangers in dark alleys", "victims provoke rape by the way they dress or act", "victims who drink alcohol are asking to be raped", and "if they did not scream, fight or get injured, it was not rape".
During the high-profile trial of Paddy Jackson and Stuart Olding, barristers were accused of falling foul of the latter.
Mr Olding's barrister, Frank O'Donoghue, drew widespread criticism when he questioned why the complainant did not resist.
"A lot of very middle class girls were downstairs," he said.
"They were not going to tolerate a rape or anything like that. Why didn't she scream the house down?"
This was one of the most widely criticised aspects of that trial and it prompted campaigners to call for a number of reforms - like pre-recorded cross-examination of complainants.
'Accurate reflection of cases'
The woman at the centre of the trial was questioned for eight days. Many said the robust questioning and gruelling process could deter potential victims from reporting their rape.
Other proposed reforms include anonymity for defendants. It was claimed that the high profile of the defendants in the case drew the public's attention which, despite the complainant's right to anonymity, resulted in her being identified on social media.
By anonymising defendants in rape trials, there could be less public interest. And defendants who are found not guilty do not have to live with the stigma of having been accused.
Retired appeal court judge Sir John Gillen is conducting an independent review into the way the justice system in Northern Ireland handles sexual assault crimes.
While BBC Spotlight's scenario is entirely fictitious, seasoned barristers have assured us it is an accurate reflection of the cases that proceed through the justice system every day.
The difficulty is not always establishing in these cases if sex occurred, or if the alleged victim consented - but whether the defendant had a reasonable belief in that consent.
With alcohol added to the mix and skewed perceptions, it is a minefield.
And that is why our jurors face such a challenge in deciding whether Andrew is guilty or not guilty.
What will their verdict be?
Spotlight is on Tuesday night on BBC One Northern Ireland at 22:40 BST.