Fire fears at Belfast flats force residents out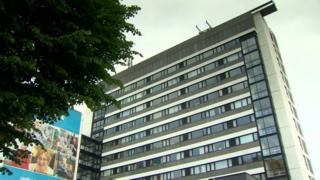 Tower block residents will be moved from their south Belfast homes permanently after safety concerns emerged following a specialist fire risk assessment.
A total of 60 people, many elderly and vulnerable, living in Block B of Russell Court will be moved out of the flats within four weeks.
Temporary accommodation will be provided for social housing residents.
They will then be permanently re-housed by the Housing Executive.
Firefighters are working with Radius Housing, who manage the building, to improve fire safety standards.
Radius Housing said a survey it carried out in April raised "serious concerns" regarding the long-term occupation of Block B and "its capacity to meet modern fire safety requirements".
"Block B does not meet the required fire safety standards and the building is to be vacated," said a Northern Ireland Fire and Rescue Service (NIFRS) spokesperson.
"NIFRS has been working closely with Radius Housing and an action plan was agreed in the event of a fire in the building.
'What's changed?'
"NIFRS also reviewed its response plan for Russell Court and has ensured that fire crews from the two closest fire stations, Cadogan and Central, are familiar with the layout and have a detailed knowledge of the premises."
Firefighters will be on site on Tuesday and Wednesday to provide safety advice and reassurance to residents.
Local resident Paddy Skully says he is shocked at the announcement.
"It's hard to grasp that somebody can say 'the fire department have said this is not liveable in', and that's it," said Mr Skully.
"You say 'hang on a second, it was OK for 30 years… what's changed?'"