Prince Charles in Coleraine as part of NI visit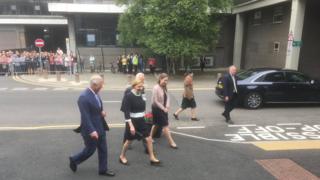 The Prince of Wales has visited the Ulster University campus in Coleraine as part of its 50th anniversary celebrations.
Prince Charles's visit is the first event celebrating the university's foundation, which happened in 1968.
Brenda Chivers, mayor of Causeway Coast and Glens and Manchester United legend, Harry Gregg, were just a few of those in attendance of the royal visit.
His two-day visit to Northern Ireland began in Belfast earlier on Tuesday.
University staff, council members and the Ulster University choir welcomed the Prince as he arrived on the campus.
Prince Charles was then escorted around to meet some of the sports organisations within the university and in and around the area, including Coleraine Strikers FC - a football team made up children with disabilities.
Prince meets United legend
by Keiron Tourish, BBC News NI north-west correspondent
Prince Charles visit to the Ulster University's Coleraine campus marked the first event in the university's 50th anniversary year.
He was given a warm welcome by well wishers after he arrived by helicopter and chatted to them briefly before the formal start to his visit.
The Prince met a broad range of people and heard about the history of the university, which has a campus in four different areas of Northern Ireland.
He was also given an outline of the university's future plans, and current developments, such as a new sports complex. The Prince spoke to young people engaging in a diverse range of sports from football to judo and spoke with Manchester United legend Harry Gregg.
Mr Gregg said the prince was very knowledgeable about his foundation, which is based at the campus, and he praised the Prince for coming to Coleraine.
The prince also heard about Northern Ireland's first Enterprise Zone involving the campus and the local Council.
The visit to the university was concluded with the Prince planting a tree to commemorate his attendance at the celebrations.
His first duty was an event at Carlisle Memorial Methodist Church in the north of the city.
Prince enjoys concert in north Belfast
by Will Leitch, BBC News NI
The former Methodist church in north Belfast is now full of community representatives, faith groups and local entrepreneurs.
Prince Charles has been enjoying a brief concert by the Ulster Orchestra including some opera and songs from the great Ulster songbook.
He has also been presented with some craft beer and raw milk cheese from County Down cows.
Read more: Defiant spire points towards bright future
At the heart of one of the most troubled parts of Belfast, the congregation shrank rapidly during the late 1960s and 1970s.
It closed in 1982 but has been brought back into use by the Belfast Buildings Trust.
During his visit, Prince Charles met local MLAs William Humphrey of the DUP and Sinn Féin's Gerry Kelly and Carál Ni Chuilin.