Brexit votes: Border issues 'not given enough time'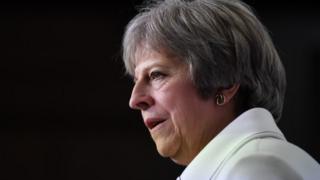 The government has been criticised for not allowing time to debate the Irish border during a series of key Brexit votes at Westminster.
Only 15 minutes was set aside for debating changes to devolved powers proposed by the Lords in the EU Withdrawal bill.
Earlier the government avoided a major defeat in a key vote on changes to the Brexit bill.
They did so by offering a concession to Tory backbenchers.
A Lords amendment to the EU Withdrawal Bill would have given MPs the decisive say on what happens over Brexit if they don't agree with the final deal with the EU.
Meanwhile, the government did support a Northern Ireland amendment proposed by Lord Patten calling for north/south co-operation to be preserved and to prevent physical infrastructure on the border including checks and controls.
North Down MP Lady Sylvia Hermon said that, in the absence of a functioning assembly in Northern Ireland, it was critically important that MPs had the opportunity to fully examine and discuss the key amendments relating to no hard border and to north/south cooperation.
"That term, Mr Speaker, is actually specifically defined in the Belfast Agreement and I've no doubt that government ministers will have read the Belfast Agreement in its entirety," she said.
"And therefore it was important that we had time this afternoon to discuss whether the government had unilaterally amended the Belfast Agreement.
"It's a really interesting point - we had no time to discuss it."
On Tuesday and Wednesday MPs are debating 14 amendments to the EU Withdrawal Bill made by the House of Lords.
The Democratic Unionist Party has said it will be supporting the government in the votes.
The bill underpins the government's Brexit strategy.
In Tuesday's key vote, the government headed off a potential Conservative backbench rebellion and the vote passed by 324 votes to 298.
It is believed the concession offered by ministers included offering a new Parliamentary motion if the Brexit deal is voted down by MPs and peers.
What is the EU Withdrawal Bill?
It is the legislation aimed at ensuring the UK has a smooth transition out of the EU.
It will repeal the European Communities Act, which took Britain into what was then the European Economic Community, meaning EU law is no longer supreme in the UK.
And to avoid a sudden "cliff edge" on Brexit day, 29 March 2019, it would also convert existing EU law into UK law so the government and Parliament can decide at a later date which bits they want to keep or change.
The bill has also become of the focus of several attempts by MPs and peers to change parts of the government's approach to Brexit.
The legislation is now back before the House of Commons after a total of 15 defeats by the House of Lords.
The key dates ahead on Brexit