Paper review: YouTube 'censorship,' church row over gay members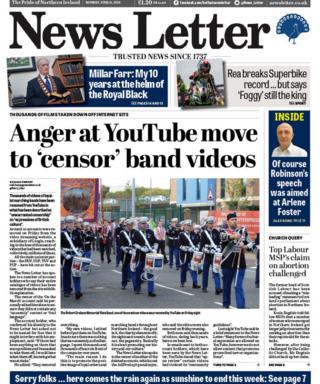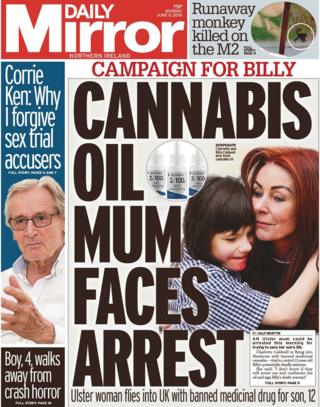 We know it's coming into the summer months in Northern Ireland when the front pages are dominated with bonfires and bands.
There's a row over the removal of YouTube videos of loyalist bands parades, the News Letter reports.
The paper claims that thousands of videos were taken down by the site in what's been described as "unwarranted censorship on British culture".
It reports that about 10 accounts were affected.
'Shameful action'
One man tells the paper his channel "promotes history and culture" and that he edited his videos to ensure they had no "unseemly or foul language".
TUV leader Jim Allister describes their removal as a "shameful action" and one that requires "urgent explanation and review".
YouTube said that while many forms of "cultural expression" are allowed it does not promote "terror organisations".
It added that if an account receives three strikes in a three months it will be terminated.
From marching bands to bonfires, The Irish News has a scoop from a Northern Ireland Fire and Rescue Service (NIFRS) report.
The paper says that loyalist bonfire builders "refused" to move a pyre away from gas mains after been asked to by firefighters.
The Freedom of Information Request (FOI) shows gas supplies then had to be shut off in one neighbourhood in July.
The NIFRS tells the paper it can only offer advice and "ultimate responsibility is with the landowner on whose land/property the bonfire is built".
The Belfast Telegraph goes in a different direction with its front page, featuring a row over the Presbyterian Church in Ireland's (PCI) stance on sexuality.
At last week's General Assembly the PCI adopted a new policy that anyone in a same-sex relationship cannot be a full member of the Church.
One "high profile" Presbyterian couple from County Londonderry are angry with the decision.
Lesley and Tony Macauley from Portstewart say their daughter Beth, who is gay, has been "excommunicated due to her God-given sexual orientation".
Ms Macauley has written to her local church and explained she can no longer worship at there.
She's not the only one who disagrees with the stance the PCI has taken.
Former speaker of the Assembly Lord Alderdice says its new policy shows the church is no longer the spiritual heir of 16th century martyrs.
However, the PCI said his criticisms were "ungracious, unbecoming and deeply regrettable" and much of what he had said was "inaccurate".
It said its Assembly came to conclusions after "prayerful consideration, discussion and open debate".
Mourne Mountains to Everest
The Daily Mirror reports that a County Tyrone mother who is flying to England with medical cannabis could "face arrest".
In 2017, 12-year-old Billy Caldwell became the first person in the UK to receive the NHS prescription but his doctor was then told to stop the prescription.
His mother, Charlotte Caldwell, from Castlederg, travelled to Toronto last Thursday to source the oil, the paper says.
On Monday she will fly into Heathrow with it and she doesn't know what the outcome will be after declaring it.
Also in the Belfast Telegraph, from the Mourne Mountains to Everest.
The paper reports on a County Armagh woman who's on top on the world, quite literally.
Linda Blakely, from Lurgan, has become the first UK female to conquer Mount Everest and Mount Lhotse just a day apart the paper says.
The 44-year-old started climbing in the Mournes in County Down and has been on an upward trajectory ever since.
She tells the paper that it was "one of the toughest challenges she'd ever faced".
She said it had always been a dream and is proud she's achieved it.
And lastly, sorry to end on a gloomy note, but the News Letter brings us the sad news that the sunshine we've been basking in is due to come to an end.
Charlie Powell, from the Met Office breaks it to us that there will be a day-on-day drop in temperature throughout the week.
It was good while it lasted.