£8.8 million investment for GP services in Northern Ireland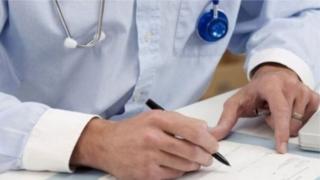 GP services in Northern Ireland will be given a fresh investment of £8.8m, the Department of Health has announced.
More than half of the funding will be used for the practice-based pharmacist scheme, where pharmacists work alongside GPs.
The department has said there will be close to 200 pharmacists working at GP practices by the end of the year.
£1.5m is to be allocated to the expansion and improvement of premises.
The expansion of GP practices will be designed to create extra space for multi-disciplinary teams and trainee GPs.
'A step in the right direction'
Of the remaining amount, £1.8m will be given to tackle demographic pressures, including the ageing population and increased numbers of patients with long-term conditions, while £1m is to be allocated to tackle the costs of medical indemnity cover.
In January last year, GPs wrote an open letter to Stormont politicians warning that many practices were struggling to recruit and retain family doctors and seeking urgent extra funding.
It came a month after hundreds of doctors signed undated resignation letters because of funding concerns and workforce strain.
The funding announcement follows last month's investment of £15m towards enhancing primary care.
In addition, £9.7m was also made available for GP services in 2017/18.
Tom Black, chairman of the GP committee at the British Medical Association (BMA) Northern Ireland, welcomed the latest tranche of funding as a "step in the right direction" which would benefit both patients and ease the strain on GPs.
"At the moment in general practice, it is very difficult to get a GP appointment because there aren't enough GPs, and we are struggling to attract young doctors because of the workload," he said.
Transforming the service
Dr Black said the recruitment of extra multi-disciplinary staff, including additional pharmacists, would release the burden on GPs, who he said were issuing 42 million prescriptions each year.
"I think it is the first step in the solution for the GP crisis that we have. It is transforming the service... moving patient services away from the biggest hospitals to the community."
The practice based pharmacist scheme was launched as a five-year plan in December 2015 by then health minister Simon Hamilton.
Although some pharmacists currently work out of practices, the initiative aims to increase their number and allow GPs to spend more time with patients and improve the safety of prescribing.