Belfast march celebrates women's suffrage centenary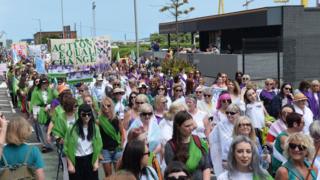 Thousands of people took part in a "mass artwork" UK-wide procession on Sunday celebrating 100 years since some British women first got the right to vote.
The Belfast event began at the Titanic Slipways at about 12.30 BST.
Participants walked a 1.5 mile route ending with a gathering at Belfast City Hall.
A sea of green, white and violet represented the colours of the women's suffrage movement.
The newly elected Lord Mayor of Belfast, Deirdre Hargey, told BBC News NI: "I think it's a brilliant campaign that we had today, a real display of art in the city and using a form of art to bring the city together.
"There are still outstanding rights issues that need to be addressed for women today, and I was glad to stand with all of those women and demand their rights for a just and equal society."
As part of the project, many women's and community groups across Northern Ireland made banners to carry during the procession, highlighting a variety of issues and concerns for women of the 21st century.
Other marches were held simultaneously in Cardiff, Edinburgh and London.
Lauren Brown, 24, spoke to BBC News NI about why she came out to celebrate the 100th anniversary of female suffrage.
"It's important to remember the sacrifice that women have made for us, and that's why I think its really important to vote because women died for us to have this right."
66-year-old Frances Shields from Londonderry explained why the day was so important for her.
"I am one of the people who first got the vote at age 18 and that for me was such a momentous occasion. Universal suffrage wouldn't have happened without the women of that campaign, both the Suffragists and the Suffragettes."