Passenger on Jet2 flight 'verbally abusive' to flight attendant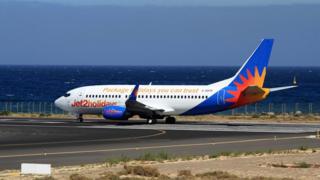 A passenger who forced a Jet2 flight from Belfast to Ibiza to divert to Toulouse was "verbally abusive" when refused alcohol on board the flight.
A woman who was onboard the flight told BBC NI that the man was part of a "large stag group" that was "quite rowdy" when they came on board.
Jet2 said the decision to divert was taken due "the deplorable behaviour of a particularly disruptive customer".
The airline has handed a lifetime ban to the man.
'Stern warning'
The passenger was on the flight with her partner and four-month-old baby.
She said the stag group were some of the last passengers to board the plane: "The captain introduced himself and gave a really stern warning and reiterated that only alcohol bought on board could be consumed on flight and duty free can't be consumed."
The passenger said the diversion doubled the length of their trip.
"Passengers couldn't get off the plane and it was roasting," she said.
"All the babies and kids on the plane were so unsettled. Six hours in total when it should have been a three hour flight."
She added that the captain warned passengers when they took off from Toulouse that he would stop the flight in Barcelona to remove passengers if the unruly behaviour continued.
'Unusual decision'
Flight LS397 left Belfast International Airport at about 15:30 BST on Friday.
On Friday, a Jet2 spokesperson said such behaviour would "not be tolerated".
"It's very clear that consuming alcohol illicitly contributed to this behaviour," the airline said.
"In consultation with the captain we had to take the unusual decision to divert the aircraft as the situation on board escalated and he was taken off the aircraft with the assistance of the police in Toulouse."