Modigliani masterpiece on display at Ulster Museum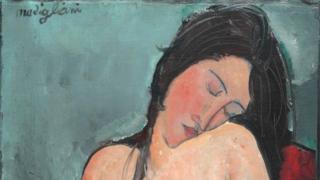 One of the 20th century's most famous paintings has gone on show at the Ulster Museum in Belfast.
'Female Nude, 1916' by the Italian artist Amedeo Modigliani is on loan from the Courtauld Gallery, London.
When the painting was initially shown in Paris a century ago it created a scandal.
An exhibition containing it and a number of other Modigliani nudes was closed by the French police.
However, the reception for the masterpiece on its first day of public display in Belfast was much warmer.
"Of all the various nudes that he did, this is one of the most important," one early viewer told BBC News NI.
Unique painter
"It's not every day you get the opportunity of seeing something that's as famous as this is," another said.
Among the other early visitors were a group of French tourists.
Louise, who is from Paris, said she was surprised to see it in Belfast.
"It's especially interesting to see it at the time of the 'Me Too' movement," she said.
The senior art curator at the National Museums NI, Anne Stewart, said that Modigliani, who died at the age of 35 in 1920, was a unique painter.
"He reinvented the way you paint and for us it's about technique," she said.
"He's very famous, he's illustrated in many magazines and posters but you need to come in and see the technique - how he paints, how he puts paint on the canvas.
"You feel that you're just coming upon this figure and there is an immediacy and a physicality that still surprises us today."
Ms Stewart also said that a local link was the reason that the painting had been loaned to the museum by the Courtauld Gallery.
"A collection was made as the result of the wonderful textile industry set up by Samuel Courtauld," she said.
Courtauld connections
"There was a Courtauld factory in Carrickfergus and now that the gallery is closing for refurbishment they wanted to send some of the paintings back to places that had created the wealth that allowed the collection to be formed, so it's a giving back."
'Female Nude, 1916' is also likely to one of the most valuable paintings ever to go on display in Northern Ireland.
In May 2018, another nude by Modigliani - Nu couché (sur le côté gauche) - was sold for $157m (£117m) at Sotheby's in New York.
However, as 'Female Nude, 1916' is part of the Courtauld collection it will not be sold on the art market.
However, Anne Stewart said she could understand why a collector would want to possess it.
"I think Modigliani is so immediately recognisable, he painted like no other artist and you can almost understand how it's a trophy acquisition," she said.
"If you were a collector you would want to possess it, it's something that says a great deal about your taste and wealth that you can afford something like that."
'Female Nude, 1916' is on display at the Ulster Museum until 28 October.