Presbyterian Church in Ireland votes against gay membership
By Mark Simpson
BBC News NI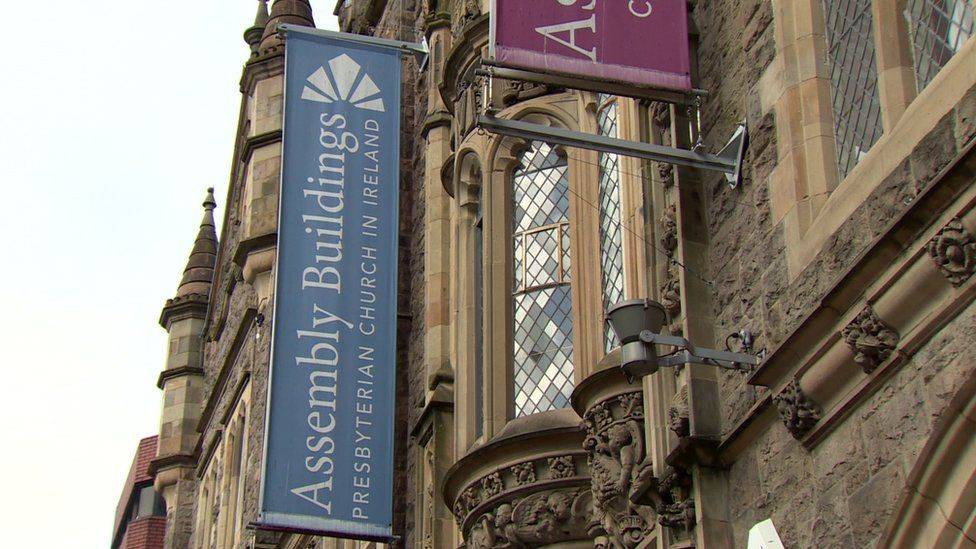 The Presbyterian Church in Ireland has adopted a new policy that means anyone in a same-sex relationship cannot be a full member of the Church.
It also means their children cannot be baptised.
The move comes after the Church cut ceremonial ties with the Church of Scotland due to its more liberal attitude to same-sex relationships.
Not everyone in the Church agreed with the adoption of the new rules on membership and baptism.
There was a lengthy debate on Friday morning at the annual meeting in Belfast of the decision-making General Assembly.
The debate lasted more than an hour and more than 20 people spoke.
The Reverend Cheryl Meban, a chaplain at Ulster University, urged the Church not to adopt the policy.
'Credible profession of faith'
The Rev John Dunlop, a former moderator, said it was a "highly sensitive" issue and cautioned against adopting any formal rules on the matter.
However, another former moderator, the Rev Stafford Carson, argued that the Church needed to make its position clear that it was not in favour of same-sex relationships.
The policy is contained in a report by the Church's doctrine committee.
The committee concluded: "In light of our understanding of scripture and the Church's understanding of a credible profession of faith, it is clear that same-sex couples are not eligible for communicant membership nor are they qualified to receive baptism for their children.
"We believe that their outward conduct and lifestyle is at variance with a life of obedience to Christ."
A motion to shelve the report was defeated in a vote. It was a show of hands rather than a recorded vote.
The Presbyterian Church has made it clear that the new policy does not prevent people in a same-sex relationship attending church.
On Monday, the Reverend Dr Charles McMullen was formally elected as moderator for the next 12 months.
The Presbyterian Church has more than 220,000 members in Northern Ireland and the Republic.