'Mass participation artwork' celebrates women's suffrage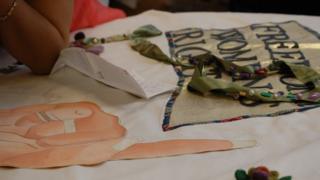 "Women's vote won" declared the Manchester Guardian newspaper when the Representation of the People Act was passed by parliament in 1918.
The legislation gave women the vote - but only women who were over 30 years old and who also owned property.
One hundred years later, groups from across the UK are preparing to mark its centenary.
In Bangor, County Down they are making banners ahead of a national procession.
Inspired by the movie Suffragette, organiser Lesley Cherry said it showed her a different type of feminism to that of the 1970s.
"They were very aware of equality of pay, they were very strong women and they didn't suffer fools lightly at all."
Anne Cunningham, who is in her 70s, says she never thought about pay inequality throughout her own working life, but is concerned about it now.
"I see how unfair it is for girls. If they're doing the same job as a man they they should be paid the same money.
"I have a 13-year-old granddaughter and four grandsons. I would like my granddaughter to earn just as much as the boys. She is just as clever and I can't see why she would be paid less," she added.
Women from countries where equality is in short supply are also joining in.
They are working on their banner in the Arts Ekta hub in Belfast
Ansaf is from Syria, through an interpreter she explained that she always enjoyed art but doesn't care for politics.
"The best bit is the welcome here, taking care of us. I like being with the other women," she said.
Nura from Somalia is looking forward to taking part in the procession, the 16-year-old hasn't been on a march before.
"I think it is really important that women should vote. Not a lot of women used to vote before and now they should."
The idea behind one of the banners was to show the physical act of voting.
In Westminster elections in the UK you place an X beside the candidate you want to vote for, but in other countries it is a different process altogether.
"Ink goes on your finger, and ink is the mark that shows you've voted," explains textile artist Emma Whitehead.
"We wanted the hand to be very visible with the mark on the finger."
Representation of the People Act 1918 - key dates
6 February 1918 - The Representation of the People Act is passed giving women aged over 30 and "of property" the vote
21 November 1918 - The Parliament (Qualification of Women) Act is passed and allows women to stand for Parliament
14 December 1918 - Women vote in a general election for the first time
2nd July 1928 - The Equal Franchise Act is passed and all women aged over 21 can now vote
30 May 1929 - Women aged between 21 and 29 vote for the first time
30 April 1958 - The Life Peerages Act 1958 allows women to sit in the House of Lords as life peers