Reaction to Supreme Court abortion ruling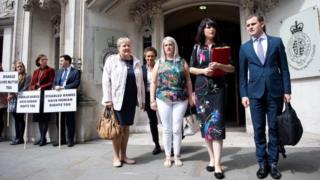 The Supreme Court has rejected an appeal by human rights campaigners over the legality of Northern Ireland's abortion law.
Following Ireland's vote in favour of repealing the Eighth Amendment, NI is the only part of the UK and Ireland where abortions are illegal.
A termination is currently only permitted if there is a serious risk to a woman's life or her health.
Supreme Court judges said the existing law in Northern Ireland was incompatible with human rights law, but dismissed an appeal by the Human Rights Commission on technical grounds.
Here's how leading figures in politics and legal circles have reacted.
Northern Ireland Secretary Karen Bradley
"The government is carefully considering the judgment and its implications.
"No formal declaration has been made by the court and the appeal has been dismissed, but the analysis and comments from the court on the issue of incompatibility will be clearly heard by the House of Commons and politicians in Northern Ireland.
"This is clearly a complex area of law, an extremely sensitive subject matter which raises a number of different issues to consider."
Lord Kerr, Justice of the Supreme Court
"The courage of these women in giving unsparing accounts of their experiences is wholly admirable."
Lord Kerr said that, by a majority of five to two, "the court has expressed the clear view that the law of Northern Ireland on abortion is incompatible with Article 8 of the Convention in relation to cases of fatal foetal abnormality and by a majority of four to three that it is also incompatible with that article in cases of rape and incest".
He added that while this is not a binding decision it was "worthy of close consideration by those in whose power it lies to decide whether the law should be altered".
Darragh Mackin, solicitor for Sarah Ewart and Amnesty International
"Until such times as the legal framework caters for what are very basic human rights, our client, Sarah Ewart, has made it clear that she will continue to take the case to the highest level to ensure that no woman has to go through the traumatic experience in which she was so forced.
"All eyes are now on those respective bodies to ensure that immediate action is taken to bring this vacuum of human rights protection to an immediate end."
Labour MP Stella Creasy
"Watching MPs saying how sad they feel about situation in Northern Ireland but shrugging their duties to act to protect human rights set out in Good Friday agreement makes you wonder if they have even read it and responsibilities it gives UK parliament."
Sinn Fein Vice President Michelle O'Neill
"Court judgment today is further evidence of women being failed by the system - a need for urgent reform.
"Next steps: repeal 1861 and end the criminalisation of women.
"Bring forward compassionate healthcare legislation that supports women."
DUP MP Jeffrey Donaldson
"This is a devolved matter and any attempt to change the law without the consent of the Assembly would be a breach of the devolution settlement.
"We welcome the clear position taken by the Government in respecting the right of the Assembly to legislate on abortion, reflecting the will of the people of Northern Ireland."
Green Party MLA Clare Bailey
"The Supreme Court has confirmed that abortion laws breach human rights.
"Westminster must act to remedy this.
"The pressure is mounting and tide turning - we will not be left behind."
SDLP leader Colum Eastwood
"The view from the Supreme Court is clear - politicians can no longer duck our responsibilities to properly analyse and legislate on difficult issues.
"It's my strong, personal, view that it is completely unsustainable for us to have a different law from the south on abortion."