DUP MLA Jim Wells compares abortion to Nazi Holocaust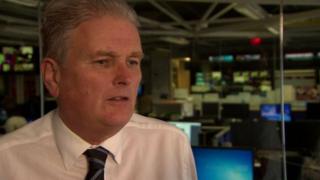 A DUP MLA has said the number of people murdered by the Nazis in concentration camps during World War Two is comparable to the number of abortions since laws were relaxed in England, Scotland and Wales.
Jim Wells made the remarks on BBC Radio Ulster's Nolan Show on Wednesday.
It comes a day after MPs at Westminster debated calls for change to abortion laws in Northern Ireland.
Abortion laws are stricter in Northern Ireland than the rest of the UK.
Currently, women can only access an abortion in Northern Ireland if their life is at risk or there is a permanent or serious risk to physical or mental health.
Rape, incest and fatal foetal abnormalities are not circumstances in which abortion can be performed legally.
At the end of May, the Republic of Ireland voted overwhelmingly to overturn an abortion ban - prompting debate around the issue in Northern Ireland.
'Ghastly situation'
On Wednesday, former health minister Jim Wells took part in a BBC Radio Ulster debate and made the following comments in response to a caller on the show.
"Nine-point-two million people have had their lives terminated through abortion in Britain since 1967," he said.
"That is actually more than the number of lives murdered in the gas and concentration camps of Auschwitz and Buchenwald."
Mr Wells went on to describe it as a "ghastly situation" and clarified that he was only made the comparison due to the "numbers" involved.
Last month Mr Wells lost the party whip after criticising the leadership in the media.
Responding to his comments about abortion, the DUP leader, Arlene Foster, told UTV: "I think it's the wrong use of language and again it brings us back to the fact that this is a very emotive issue and people need to be aware of that when they are discussing it."