Wrightbus warns of a further 95 job cuts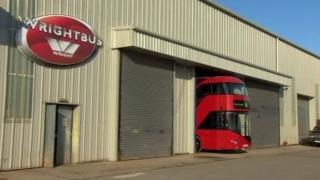 The County Antrim firm Wrightbus is to make further job losses and warned that up to 95 posts could go.
It said it was a result of continued low levels of demand for new buses in the UK market.
This is the second time in recent months the Ballymena-based manufacturer has had to make cuts.
Ninety-five jobs also went following an announcement in February. The trade union, Unite, said the latest cuts were "devastating".
'Difficult and regrettable'
A company statement said the proposed redundancies were "subject to the outcome of the consultation process".
"There is a good deal of continuing uncertainty - specifically in the UK market - at present, which is causing private and public bus operators alike to delay or postpone their vehicle investment programmes," said the chairman of the Wrights Group, Mark Nodder.
"This has a direct impact on production levels at our Ballymena facilities and the announcement that we are making today - difficult and regrettable as it is - is nonetheless necessary to align workforce requirements with our near term order book."
Analysis - Julian O'Neill:
Wrightbus is making cuts having studied the UK market for future order prospects.
It believes it looks bleak due to constrained spending by both private but, in particular public bus companies.
Export business is much healthier, but it only accounts for about 20% of overall sales.
Wrightbus has brought work back home from factory operations abroad to help underpin jobs in Ballymena.
But this strategy has not halted a second round of redundancies in four months.
It is worth remembering it remains as sizeable employer and reported pre-tax profits of £11m in its last accounts.
Mr Nodder added: "We are naturally working proactively with the union, employee representatives and other stakeholders to mitigate both the scale and the impact of job cuts within our business."
'Deeply sceptical'
If more than 100 jobs were affected, the firm would be obliged to hold a 90-day consultation period before confirming redundancies.
Union representatives said they were "deeply sceptical of the timing" and called on the firm to "clarify whether phased redundancies are designed to avoid triggering 90-day consultation".
Unite's regional officer, George Brash, said: "Given it is less than four months since the last redundancy - which just happened to be below 100 job losses - we have to question whether Wright group bosses are purposefully staggering job losses so that they don't exceed the threshold triggering a full 90-day consultation period and the opportunity for our union to bring forward alternatives."
Wrightbus employs just over 1,500 people.