Conan Anderson manslaughter trial ends in acquittal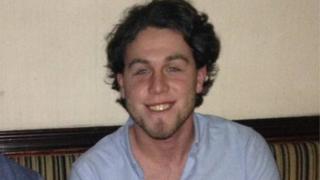 A north Belfast chef has been acquitted of causing the death of 22-year-old Conan Anderson, who died in hospital 12 days after a one-punch altercation.
A jury at Belfast Crown Court delivered a "not guilty" verdict against Lawrence Dowie after deliberating the case for more than four hours.
Mr Anderson, from Belfast's Short Strand, was hurt on Arthur Lane in February 2017.
His family left the court as soon as the majority verdict was announced.
'Catastrophic'
Mr Anderson sustained a fatal head wound during the early morning altercation with Mr Dowie.
Mr Dowie, whose address cannot be published due to a reporting restriction, always maintained he acted in self defence.
He insisted that he struck Mr Anderson once after the football coach head-butted him and threw two punches which did not connect.
The left-handed punch to Mr Anderson's jaw resulted in him falling back and hitting his head off the pavement, which caused a catastrophic head injury.
Mr Anderson was rendered unconscious for a period, but after being helped to his feet by Mr Dowie and another man at the scene, he walked the mile-long journey from the city centre to his home in the early hours of Monday 6 February last year.
Mr Dowie, who gave evidence during the week-long trial, appeared in court on crutches following a motorbike accident.
The jury delivered a 10-2 majority "not guilty" verdict.
After Judge Gordon Kerr QC was informed that there was nothing pending against the 28-year old, he told the clearly relieved chef he was free to leave the dock.
During the trial, the court heard Mr Dowie - who had never met Mr Anderson before - had attended an after-party in the storeroom of AM:PM, and was one of a group of revellers standing on the street when they left the premises at around 05:30 GMT.
'Slagging and banter'
As he gave evidence from the witness box, Mr Dowie said there was a bit of "banter" and "slagging" between him and the deceased, and claimed Mr Anderson came at him first.
When asking about this slagging and banter during the trial, Mr Dowie told the jury: "Conan was calling me Dumbledore because I was doing magic tricks, and I was calling him Gandalf."
"It was all just a bit of innocent slagging. After I said to him 'aye, no sweat Gandalf' he came over from the footpath to where I was in the middle of the road.
"He came straight over with his hands down by his side, fists clenched.
"There wasn't any time to think. I sort of froze. He put his head into mine... his head connected with the bridge of my nose."
Claiming the entire incident lasted "around 20 seconds at the most", Mr Dowie continued: "Everything happened so quickly. He was coming forward to me with punches.
"He only swung two punches, I believe both punches were with his left hand."
And when asked how he responded, Mr Dowie said: "I swung one back. I didn't have time to think. I just reacted.
"It was a panic swing to get him away from me. I believe it connected with his chin."
He was then asked what happened after he felt the punch connect, with Mr Dowie saying Mr Anderson fell to the ground.
He said he then helped to get Mr Anderson off the ground, rejecting suggestions he set out to harm the other man.
"I didn't want to fight in the first place," said Mr Dowie. he described what happened as a "terrible tragedy."
The jury was shown CCTV footage which captured Mr Anderson making his way home to Short Strand following the punch.
Clearly unsteady on his feet at times, Mr Anderson was spoken to by both a paramedic and police, and rejected medical assistance.
He slept for a few hours after returning home, but his erratic behaviour on the afternoon and evening of Monday 6 February caused so much cause concern to his family that an ambulance was called.
Despite medical intervention, Mr Anderson died in Intensive Care 12 days later, from severe head injuries including a fractured skull and bleeding on the brain.