Lusitania wreck lifeboat davit officially transferred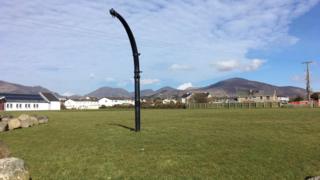 The official transfer of a davit that held lifeboats in place onboard the Lusitania has taken place.
The steel crane has stood in a County Down park for 30 years.
It will now travel south from Annalong to Kinsale in County Cork - by road and not sea - to be installed at a dedicated museum.
The ocean liner was travelling from New York to Liverpool in 1915 when it was hit by a torpedo fired from a German U-boat.
It sank off the southern coast of Ireland, killing approximately 1,200 people.
The davit, a steel crane used for suspending a lifeboat, had been pulled on board the Croidte an Dúin fishing boat from the ship's wreckage near Kinsale in 1965.
Lusitania Museum
The transfer took place at the offices of Newry, Mourne and Down District Council in Newry on Monday.
Con Hayes, who is the secretary of the Lusitania Museum, told BBC News NI how he became aware that the davit had made a 260-mile journey north to south Down.
"We saw an article in a local newspaper here that alerted us to the fact that there was such an item in Annalong," he said.
"We started pursuing to see how it arrived in Annalong and discovered that it had been trawled up by Gerry Doyle and his crew some 40 years ago.
"They attempted to land it in Kinsale but could find nobody who could take it off the boat. So they took it home to Kilkeel."
The davit was subsequently gifted to Newry Council who placed it at Marine Park.
---
More on the sinking of the Lusitania
BBC iWonder: Who was to blame for the deaths of 1,201 people?
Radio Ulster's World War One at Home reports from Cobh
---
According to Gerry Doyle's wife Josie and son Neil, the transfer would be in line with Gerry's wishes.
"It meant a lot to him," Neil said. "He understood the significance of having the artefact in a museum where it belonged.
"Hopefully we can all make it down to Kinsale for the unveiling."
Josie said it would be "a big day for Kinsale, when that happens", but she was sorry her husband was "not here to see it because that was his one wish".
The unveiling will take place at a special ceremony on 30 June.