Pharmaceutical firm Almac sees profits increase by 22%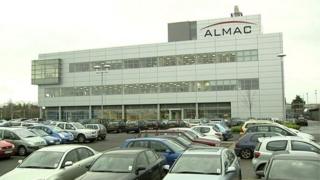 Pharmaceutical company Almac has seen profits rise by 22%, as turnover broke the £500m barrier for the first time.
The company, which has its headquarters in Craigavon, County Armagh, said 2017 had been "a strong year".
Pre-tax profits rose from £27m to £33m, off a turnover of £531m.
Considered one of Northern Ireland's most successful firms, Almac's staff numbers grew by 10% to more than 4,400.
Almac recently bought two factories in the Republic of Ireland to ensure an EU presence, post-Brexit, for regulatory reasons.
The firm also has a base in Pennsylvania in the US.
Chief executive Alan Armstrong said: "During the year we made significant investment for the long term benefit, including global expansion into key strategic territories.
"The financial benefit of these investments may not be realised immediately, however they will ensure steady and continued growth into the future."