No motorway access for NI learners until at least 2020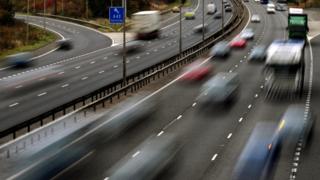 Learner drivers in Northern Ireland will have to wait, until at least 2020, before they can have lessons on a motorway.
On Monday, it was announced the law in GB would change to allow lessons on motorways.
NI wants to introduce Graduated Driver Licensing (GDL) which would extend current learner and 'R' driver periods.
The Road Traffic Act 2016 provided powers to introduce GDL, but any change requires sign off by the NI Assembly.
Currently only those who had passed their test can drive on a motorway, but the removal of the 45 mph speed restriction under GDL means lessons could be allowed in a dual-control car with an approved driving instructor.
The Department of Infrastructure said the GDL would include a number of measures aimed at saving the lives of teenage drivers.
A spokesperson said: "All GDL secondary legislation is drafted, but one of those legislative drafts requires affirmative resolution by the Northern Ireland Assembly.
"We anticipate introducing GDL in 2020 and the measures will include for all new provisional driving licence holders after the date of introduction."
---
What GDL will mean for NI learner drivers
Removal of 45 mph speed restriction - allows lessons on motorways
Six-month mandatory minimum learning period
Restriction on number of teenage passengers at night
R plate to be displayed for two years
---