Driver denies phone use in 2008 accident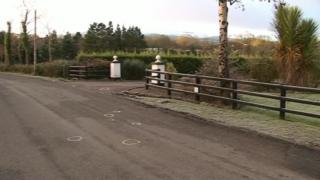 The driver of a car which struck and killed two teenagers in Fermanagh 10 years ago has denied using her phone while driving at a second inquest.
Debbie Whyte, 14, died along with Nathan Gault, 15, after they were hit by a car in Florencecourt in 2008.
They had got off a school bus shortly before they were knocked down.
Yvonne Seaman broke down in Omagh Coroner's Court on Monday as she was asked about activity on her phone around the time of the accident.
She denied using her phone while driving several times.
"It happened so fast," she said.
"I just hit something. I didn't know what it was."
Before leaving the witness box, she turned to the Whyte and Gault families and said she wanted them to know how sorry she was and wished it had never happened.
Second inquest
The attorney general ordered a fresh inquest after Debbie's mother, Ann Whyte, contacted the Ombudsman in 2012 with concerns about phone use in relation to the accident on Croaghrim Road.
Mrs Whyte told the second inquest that she and her husband ran to their daughter as she lay on the road.
She told the court she was never asked for a statement about what she saw.
Mrs Whyte was composed on the witness stand in Omagh Coroner's Court as she recounted how, on the day the teenagers were knocked down, she and her husband had been at a shop about a mile and a half away when her mother-in-law phoned.
She told them there had been an accident and Debbie was hurt. The schoolgirl died in hospital the next day.
'Unresponsive'
Nathan Gault's body was later found in his uncle's garden.
A third teenager who was walking with the pair, Wayne Manley, was unhurt.
Mr Manley, who was 14 at the time, also gave evidence to the new inquest.
He became emotional as he told the court that he remembered feeling the car's wing mirror clip his arm.
He said he turned to ask his friends if they had seen that happen, but saw one of them rolling down the grass verge so he called for an ambulance.
Mr Manley said police interviewed him two months after the accident, but he said he was never asked about his phone.
In the period between the accident and his interview, he was asked to make notes of anything he remembered, but Mr Manley told the inquest he "wasn't great for writing things".
No streetlights
Another witness, Darren Ferris, also made a statement to police about two months after the deaths.
He was driving on Croaghrim Road on that day and said it was darker than usual and there were no streetlights on the road.
He said he had seen the three children walking, three abreast.
When asked by the coroner's representative what he found unusual about that, he said he thought it was dangerous.
A first inquest in 2010 concluded wearing "illuminating clothing" could have prevented their deaths.