Deirdre Hargey: Sinn Féin's first female Belfast lord mayor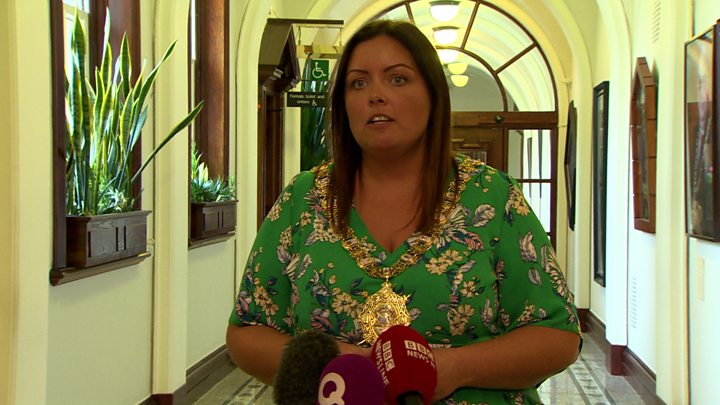 Sinn Féin's Deirdre Hargey has become the new Lord Mayor of Belfast.
She replaces Alliance's Nuala McAllister, who handed over the mayoral chain of office on Monday night.
Ms Hargey first joined Belfast City Council in 2010, and has been Sinn Féin's group council leader since February 2018.
She is the first woman from Sinn Féin to become the Lord Mayor of Belfast, and only the fifth female lord mayor in the council's history.
There had been speculation up until Monday evening that 19-year-old Órla Nic Biorna, who was co-opted onto the council last year, would take the role and become the city's youngest ever lord mayor.
Instead, Ms Hargey, who represents the Botanic ward on Belfast City Council, has been chosen.
Campaigning for rights
Ms Hargey says she will use her year as Belfast's First Citizen to campaign for rights across a range of issues, including women's access to healthcare, the LGBT community and the Irish language.
"I want to build on the platform of change that's happening across Ireland, where rights and a rights-based society is at the core of what people want to advance," she said.
She said she also hopes to continue her "good relationship" with unionist councillors.
"I have always worked well with my unionist counterparts in this council, as a party group leader and previous to that as chairs of committees," said Ms Hargey.
"I have engaged them around some of the most difficult events in this city - from bonfires to interfaces to the memorabilia in City Hall."
However, the new deputy lord mayor, Emmet McDonough-Brown, from the Alliance Party, said the pair were not welcomed by everyone into their new civic roles.
Mr McDonough-Brown replaces Ulster Unionist councillor Sonia Copeland.
Controversy
First elected to council in 2011, Ms Hargey insisted the controversy over her being in Magennis's bar on the night Robert McCartney was murdered in 2005 will not overshadow her tenure.
Speaking after Monday's council meeting Ms Hargey said the family deserved justice.
"I have cooperated fully in all cases with regards to this investigation and I would continue to do so if that was required of me in the time ahead," she said.
SF choice signal of wider party efforts
The decision to nominate Deirdre Hargey points to a wider effort on Sinn Féin's part to promote women within the party.
With the party now fronted by Mary-Lou McDonald and Michelle O'Neill, the selection of Ms Hargey is a "natural choice", according to the Andersonstown News columnist Andrée Murphy.
The fact that Ms Hargey comes to the role as the party's most recent council group leader is a strategic move, she added.
"The role of lord mayor now has more importance given the lack of a Stormont assembly."