New York pizza firm Slice creates 50 Belfast jobs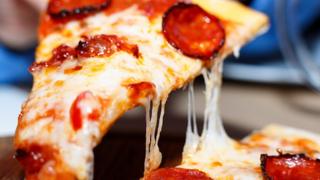 A New York-based technology firm which provides services for pizza restaurants is creating 50 jobs in Belfast.
Slice provides an online ordering and payment platform which allows independent pizzerias in the US to compete with large national chains.
The Belfast jobs will be in software engineering and the roles will attract an average salary of more than £40,000.
Invest NI has offered £400,000 towards the creation of the new jobs, 11 of which are already in place.
Jason Ordway, the chief technical officer at Slice, said he had had "positive experiences of Northern Ireland as an investment location".
He formerly held an executive role at Shopkeep, another US e-commerce firm which also has an operation in Belfast.
Mr Ordway said: "When I joined Slice and we began talking about growing our engineering team, alongside those based in New York, I was quick to recommend Northern Ireland."
Slice has about 10,000 pizzerias in the US using its platform.