Call to remove banners from mixed Belfast housing estates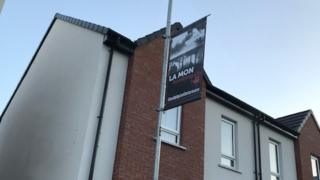 A housing association has called for the removal of banners depicting Troubles-era republican attacks from mixed housing estates in Belfast.
The banners appeared in Cantrell Close and Global Crescent - two estates which were designed to house people from all backgrounds.
They were erected by the East Belfast Community Initiative, according to the loyalist blogger, Jamie Bryson.
Radius Housing Association said it had contacted the police over the issue.
"These banners should not have been erected and should be removed immediately," said the housing association's chief executive, John McLean.
"There was no consultation with the people who live in this area and the imagery used is not appropriate for a shared living scheme which is home to families from all backgrounds."
'Frustration'
The police said they were aware of the incident but added they would "only act to remove flags or banners if there are substantial risks to public safety".
The banners show the aftermath of several IRA atrocities, including the 1982 Hyde Park bombing and Bloody Friday, when 19 bombs exploded across Belfast in little over an hour.
They include the the hashtag "standupagainstsectarianism" but the banners only show attacks carried out by republican paramilitaries.
Mr McLean said: "We strongly feel that this is not an appropriate way to display events of the past.
"We have been in contact with the PSNI, as well as local elected representatives, and our staff have been on site to ensure that everyone can enjoy living in their homes and local community without any type of intimidation."
In a statement, Ch Insp David Moore said PSNI officers "fully understand that the flying of flags and banners can cause frustration in some communities".
"It is our experience that such issues are most successfully resolved through engagement and collaborative working between local communities and their representatives and police are always ready and willing to be a partner in such arrangements."
It is not the first time Cantrell Close has hit the headlines over the public display of controversial emblems.
Last year, more than 100 people protested against the flying of flags, including loyalist paramilitary flags, from lamp posts in the estate.
At the time, protesters complained the flags were an attempt to mark out territory in an area that had been designed as a shared space.
A few months later, four Catholic families fled their homes in Cantrell Close after they received sectarian threats.
Last month, loyalist paramilitary flags appeared on Ravenhill Avenue, near Global Crescent, but were then removed.
The Cantrell Close and Global Crescent housing developments are part of the Together Building United Communities programme.
The strategy, which was launched by the Northern Ireland Executive in 2013, is aimed at "improving community relations and building a united and shared society".
The statement from Radius Housing Association said: "Our prime concern is the welfare of the people who live in Cantrell Close and Global Crescent, and they should not be the focus of a wider political debate."
The East Belfast Community Initiative has no political representatives.
Last year, it was reported that the group was claiming to "mediate on behalf of ex-combatants linked to east Belfast UVF".