Brexit: A border 'buffer zone' dismissed as 'bonkers'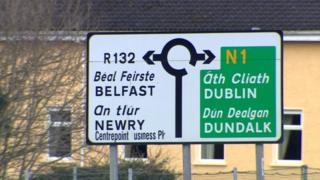 The alleged proposals to give Northern Ireland joint EU and UK status have been described as "bonkers"
The Sun newspaper said on Thursday that plans were being drawn up by Brexit Secretary David Davis for a 10 mile "buffer zone".
However on Friday, John McGrane of the British Irish Chamber of Commerce described the plans as "bonkers" and having "no substance".
Criticism of David Davis' proposals also came from politicians.
The scheme is understood to be under consideration as a potential way of breaking the deadlock over future customs arrangements ahead of a crunch summit of EU leaders on June 28-29.
Speaking to BBC News NI the chamber's director general John McGrane said the notion of a buffer zone simply moves the border question about 10 miles and "won't solve the problem at all."
"The proposal is bonkers as a notion that has no substance in terms of being able to deliver practicable solutions.
"It is purely fanciful at this stage to think that the idea of some sort of moving border solves a problem which needs a much greater degree of seriousness in its resolution."
Mr McGrane believes the best outcome is for the UK and EU to agree a customs partnership and to have a common external tariff that allows goods and services to be traded freely on the island of Ireland.
He added: "Anybody who believes it is a serious solution is acting really dangerously because the clock is ticking down towards a hard Brexit and there isn't any time for imaginary fanciful ideas".
DUP MP Sammy Wilson also dismissed the alleged proposals calling the plans "at best contradictory".
He added that the proposals had not been discussed with his party.
In a statement on Friday, Mr Wilson said: "The status of the latest leaked proposals about how the border between Northern Ireland and the Irish Republic would be dealt with when we leave the EU is unclear," he said.
"To suggest that Northern Ireland be tied to both EU and UK regulations, when one of the objectives of leaving the Single Market is to allow the UK to set its own regulations, raises the question: 'Which regulations apply to Northern Ireland if and when the UK and the EU regulations diverge?'
'Unique solution'
Sinn Féin has said a buffer zone "would merely move the problem away from the border and hide a hard border in a buffer zone".
However, the party added: "It appears that the British government is finally accepting that a unique solution is required for the north of Ireland."