RHI Inquiry told of limited paper trail between DUP advisers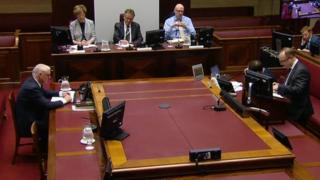 A key meeting which approved a delay in cost controls and allowed a spike in RHI applications was not minuted, the public inquiry has been told.
It happened in August 2015 and pushed the introduction of a tiered tariff back by six weeks.
In that period the number of boilers accredited to the scheme almost doubled.
The inquiry heard that the delay was agreed after a request by DUP Spad Timothy Cairns.
The inquiry was told he would claim his minister Jonathan Bell accepted it without "question or comment".
Mr Bell has given evidence to the inquiry that he wanted to close the scheme as quickly as possible when he realised it was creating a huge financial hole.
Mr Cairns' witness evidence was summarised by inquiry counsel David Scoffield QC today.
The inquiry heard that Mr Cairns and Mr Bell had a sometimes difficult relationship.
Mr Scoffield said Mr Cairn's position was that that it was no surprise that Mr Bell accepted the change without protestation.
He said Mr Cairns claimed the minister "rarely read papers or briefing documents and accepted his advice on most matters without question or comment".
Earlier the inquiry was told about a stand up row between the two in a London restaurant the night before a meeting with Whitehall minister Amber Rudd.
The two men were due to meet with the then minister with responsibility for energy and climate change.
The argument was in part about Mr Bell's ability to take decisions on his own without recourse to the others in the DUP, with Mr Bell telling Mr Cairns that he wouldn't be attending the meeting with Ms Rudd.
Mr Bell has claimed that Timothy Cairns was acting at the behest of other DUP spads to delay the introduction of cost controls for as long as possible.
That has been denied.
Civil servants had been pressing for urgent action on measures to control the spiralling spend on RHI in the summer of 2015.
After several months delay the matter was finally addressed at a meeting on August 24th 2015.
The inquiry was told the original intention was to bring in a tiered tariff in early October.
But officials agreed "reluctantly" to a request from Mr Cairns that it be pushed back to November.
"Reluctance" to press on
The permanent secretary of the department Andrew McCormick was at the meeting.
He said during that summer he'd been aware of "reluctance" to press on with the cost controls.
He said he believed that was due to pressure from others, including DUP SPAD Andrew Craword, to keep it open longer.
Mr McCormick has now told the inquiry his description of the unwillingness to act as reluctance was an "understatement".
Mr Scoffield said the picture that might be emerging was one in which Mr Cairns was "stalling".
"That could have been intentional as a means of securing a delay that others in his party desired, or it may simply have been to obtain further advice from colleagues," he said.
Mr Scoffield said all of that would have to be tested when the key players came to give evidence.