Baby's life saved by pioneering test at Daisy Hill Hospital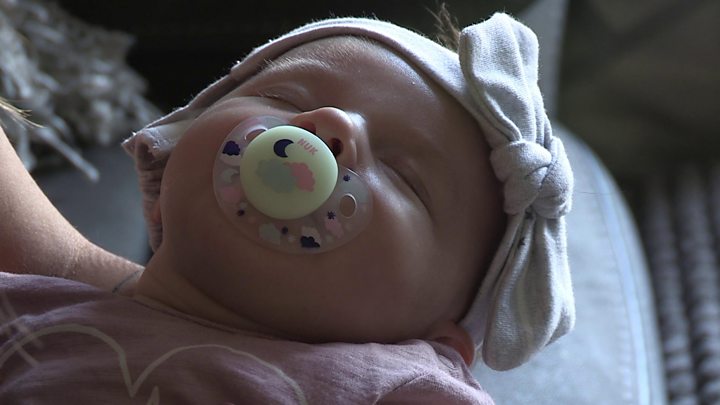 The mother of a newborn baby who had open heart surgery said she went through more in her first two days than most people do in a lifetime.
Dáire Lawson's life was saved after undergoing a test that only one hospital in Northern Ireland uses.
The test, which measures oxygen in babies' blood, was brought in at Daisy Hill Hospital almost three years ago.
When it was introduced it was hoped it would save the lives of one or two babies each year.
One of the doctors who treated Dáire said she is one of those fortunate newborns.
Since the pulse oximetry screening test was introduced at the hospital in Newry, nearly 4,000 babies have been tested.
Heartbeat NI, the charity that paid for the system, wants to see it used in all hospitals.
---
What is a pulse oximetry test?
The test is non-invasive and is over in less than five minutes. It measures the saturation of oxygen in the blood, with readings lower than 95% prompting doctors to do more tests.
It is carried out by attaching a sensor to a baby's hand or foot for a few minutes.
The same test is regularly carried out on adults with lung conditions, or people placed under a general anaesthetic.
---
Dáire, from Burren, County Down, is now five weeks old and a picture of health.
The test discovered she had transposition of the great arteries (TGA), a congenital heart defect (CHD) which causes the large vessels that carry blood from the heart to the lungs, and to the body, to be improperly connected
A baby born with the condition will not have enough oxygen in the bloodstream to meet the body's demands for long.
Her mum, Katie Dinsmore, explained what happened after the hospital test detected the condition.
"From there it was quite a whirlwind," she said.
"She was transferred from Daisy Hill up to Our Lady's Children's Hospital in Dublin, where she had keyhole surgery that evening and she had open heart surgery the next day.
"So, at two days old she had her main surgery. She's been through an awful lot.
"Hopefully that's her now, we like to think she's been through enough really at this stage."
Dr Bassam Aljarad, who introduced the screening programme, said CHD is one of the most common types of birth defect
"More timely detection helps us to identify more babies with CHD at a much earlier stage, ensuring that we can keep them monitored and give them the treatment they need to prevent greater health consequences, disability or in the worse cases premature death," he said.
Irwyn McKibbin, chairman of Heartbeat NI, said: "While CHD may only be detected in one or two babies each year through screening, the difference from screening can be life-changing for that small number of families.
"Without such a proactive approach by the paediatric team, the outcome for baby Dáire could have been very different."
The Southern Health Trust is now considering introducing the test at Craigavon Area Hospital.