UUP MLA calls for investigation into leaked letter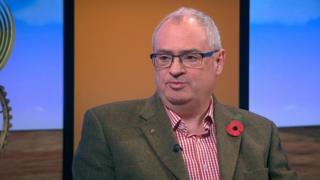 The Ulster Unionist chief whip Steve Aiken MLA has called for the head of the civil service to investigate the unauthorised release of confidential documents.
The RHI inquiry heard on Thursday that a privileged legal letter was passed to the lobbyist Gareth Robinson..
Gareth Robinson is the son of former DUP First Minister Peter Robinson.
Peter Robinson has said he did not ask for the information to be sent to his lobbyist son.
The document related to a controversial planning case.
Commenting on the RHI evidence UUP's Steve Aiken called on the head of the civil service, David Sterling, to carry out an inquiry into the matter.
He said: "To actually find that documents that have been described variously as protected or confidential, or whatever else, was being leaked, and being leaked by a special adviser, that brings into whole question of what is going on with classified documents.
"And if I was David Sterling right now, I'd be looking to get a leak inquiry on the way."
The special adviser (spad), Dr Andrew Crawford, told the RHI inquiry on Thursday that he passed a privileged legal letter to Gareth Robinson.
At the time he passed on the letter, Dr Crawford was working as a spad for then enterprise minister, Arlene Foster.
He told the inquiry he may have been asked to provide the information by either Peter Robinson or his then adviser Richard Bullick.
Dr Crawford added that as Gareth Robinson was the son of his party leader he usually "responded to his queries quicker" than to queries from other lobbyists.
However, in a written statement to BBC's The Nolan Show, Peter Robinson said he did not ask Dr Crawford to send this information to his son.
Nor, he said, did he ask his special adviser to ask Dr Crawford to send it.
Peter Robinson added that he was not aware of Mr Bullick asking Dr Crawford to send the information.
A spokesperson for The Executive Office told the BBC:
"It would be inappropriate for the Civil Service to launch an investigation into evidence given during the RHI Inquiry until it completes its work and publishes its recommendations."