RHI Inquiry told of limited paper trail between DUP advisers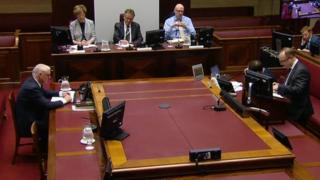 There is a limited paper-trail between DUP special advisers during a key phase of the RHI debacle when it was alleged they were thwarting attempts to delay the introduction of cost controls, the public inquiry has been told.
Most of their communications were over the phone or in meetings which were not minuted, RHI Inquiry counsel David Scoffield QC told the panel.
The inquiry has begun to look at the summer of 2015 when the scheme was running out of control and attempts were made to stem the flow of money.
A central allegation made by former DUP minister Jonathan Bell is that he was thwarted in attempts to close the scheme by a number of DUP special advisers (spads), including Timothy Johnston and Andrew Crawford.
'Highly contentious'
At the time, Mr Johnston was adviser to the then First Minister Peter Robinson.
Mr Crawford was working in finance with the then minister Arlene Foster.
Both men have denied the allegation and Mr Scoffield said much of Mr Bell's evidence in respect of this period was "highly contentious".
The inquiry has checked personal email accounts of key participants in this period and, where available, had mobile phones analysed.
But in most cases, Mr Scoffield said, the information did not go as far back as 2015.
He said in some cases this was because people had cleaned out their inbox.
They may also have handed back departmental phones which were wiped and passed to other civil servants.
"I think it's fair to say that there's less of a paper-trail in terms of relevant communications between spads than this inquiry would have liked to have seen," Mr Scoffield said.
He said as a result of the lack of supporting paperwork the inquiry would be heavily reliant on the witness statements and oral evidence of the special advisers who would be called to give evidence and its assessment of what it heard.
Mr Scoffield said if special advisers or others had been engaged in "anything improper or on the fringes of what they knew to be permissible" and which might be embarrassing for them or their parties, that might provide an incentive to ensure "that less rather than more was recorded in recoverable form".
He said the inquiry might want to consider whether among special advisers and civil servants there might have been a practice to ensure that "embarrassing or controversial material" was not placed on the formal record.
Restaurant row
Later the inquiry was told of a row in a London restaurant in June 2015 involving former enterprise minister Jonathan Bell and his adviser Timothy Cairns.
The inquiry heard there was some evidence that emerging problems in the RHI scheme were "in the mix".
Both men were part of a departmental delegation to meet with Amber Rudd, the then minister with responsibility for energy and climate change.
David Scoffield told the inquiry that Mr Bell and Mr Cairns had a sometimes "difficult" relationship.
The two fell out in an Indian restaurant the night before the meeting over the extent to which Mr Bell was able, as minister, to take his own decisions without recourse to the wider DUP.
The row continued at breakfast the next day and several officials were asked to leave the table.
Mr Bell told Mr Cairns he would not be coming to the meeting with Amber Rudd and Mr Cairns flew home without attending.
Mr Bell has told the inquiry he believed his adviser was acting at the behest of other DUP spads to delay the introduction of cost controls to the controversial scheme.
DUP spad Andrew Crawford, who had moved on from the enterprise department to finance, was still providing advice to Timothy Cairns about the RHI scheme because he had a detailed knowledge of it from his own time in enterprise.
Mr Cairns said the arrangement had been set up by Timothy Johnston, then adviser to First Minister Peter Robinson.
'Evidential dispute'
Mr Cairns said he understood the purpose of it was that the DUP could reach a party position on RHI.
Mr Scoffield said Mr Cairns' evidence was that Mr Crawford suggested cost controls "should be delayed to the latest date that officials would recommend".
He said this whole area was the subject of an "evidential dispute".
Mr Scoffield said the inquiry would also want to try and establish why it had taken so long to get ministerial sign off for a proposal for cost controls in the RHI scheme.
It was provided by officials on July 8th, but wasn't signed off by Mr Bell until September.