NI Newspaper Review: DUP adviser in spotlight and abortion pills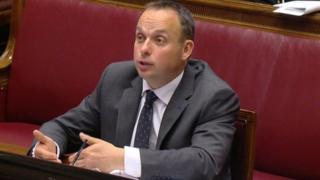 Former DUP special adviser Andrew Crawford makes the front page of some of the local newspapers for the second time this week, following the revelation at the RHI inquiry that he passed a privileged legal letter to the lobbyist son of Peter Robinson.
The News Letter, Belfast Telegraph and Irish News all cover the story prominently.
The News Letter highlights Dr Crawford's comments that as Gareth Robinson was the son of his party leader he usually "responded to his queries quicker" than to queries from other lobbyists.
It says the revelation came on a day where Dr Crawford's explanations "led at points to exasperated questioning from an inquiry panel which was audibly frustrated by some of his answers".
Gareth Robinson ran a lobbying and public relations firm called Verbatim Communications.
Dr Crawford told the inquiry he had only meant to forward the email from the departmental solicitors' office and not the attached legal letter.
The Irish News leads with an appeal by a devastated father for more investment in mental health care, following the sudden death of his son.
Kieran Moore said he found the body of his 24-year-old son Conor on Monday after breaking down the door to his flat in Lenadoon in west Belfast.
The newspaper says medics believe Conor may have suffocated, but further tests are being carried out.
Conor was diagnosed with paranoid schizophrenia at the age of 18 and spent the last six years "in and out" of Knockbracken Health Park.
The Belfast Health Trust said it offered its "deepest sympathies" to Conor's family, but was "unable to comment on any individual cases".
The News Letter and Belfast Telegraph both report that the Department of Health has still to trace about 140 people who have not responded to a recall linked to a review of the work of consultant neurologist Dr Michael Watt.
At the start of May, more than 2,500 neurology patients in Northern Ireland, including children, were recalled for a case review.
The Department of Health in NI said 678 people had been seen as part of the recall up to 30 May, with a further 1,650 appointments scheduled. They said approximately 140 of Dr Watt's patients had not responded to the recall.
The Telegraph also reports extensively from the pro-choice demonstration outside Belfast's High Court on Thursday where "three women, who refused to disclose if they were pregnant, consumed abortion pills in the glare of the media, while being filmed by police".
It says that police have seized two robots that activists had planned to use to deliver abortion pills. It adds that activists surrendered a number of pills voluntarily.
The Telegraph's Victoria Leonard says there was "surreal drama" in the city centre and that "at one point, the media scrum became so intense that a reporter almost lost his footing after colliding with an unforgiving pillar".
"Pals drown in Quarry Lake", is the headline on the front of the Daily Mirror, as it reports on the death of two teenage boys in County Clare.
Both boys, aged 15, got into difficulties at an abandoned quarry at Knockanean.
They were airlifted to University Hospital Limerick in a critical condition, but were later pronounced dead by the Gardai (Irish police).
Elsewhere, the paper covers the comments of Police Federation for Northern Ireland chairman Mark Lindsay at the organisation's annual conference.
He said giving terrorists or police officers an amnesty from prosecution would be a "monstrous injustice".
Mr Lindsay added that it would be "disrespectful and a shameful act of betrayal" to link the names of officers with terrorists.
Finally, Snow Patrol's song Run was a big hit for the band, and they needed to get their skates on for a free gig in Belfast city centre after two of their members were delayed on a flight from Manchester.
The Irish News reports that singer Gary Lightbody updated fans via social media.
He explained that a flight attendant cut her finger on the overhead baggage compartment and "it was just a series of unfortunate events from that point on."
When Lightbody and fellow band member Nathan Connolly eventually arrived at the HMV store in Donegall Arcade, they were given a rousing welcome.