Calls for Stormont flags body to be suspended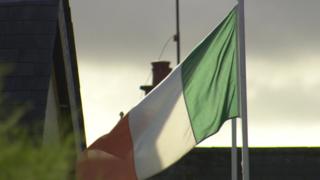 There have been calls for the Stormont body set up to examine flags, culture and identity to be suspended until devolution is restored.
It comes after BBC News NI revealed that the panel has cost more than half a million pounds since it was set up in 2016.
It was meant to report back within 18 months, but has yet to finish its work.
Sinn Féin and the Ulster Unionist Party said the panel's task has been made harder by the lack of an executive.
The Commission on Flags, Identity, Culture and Tradition (FICT) was set up in June 2016 by the Executive Office.
'Outstanding issues'
Just over six months later, power-sharing between the DUP and Sinn Féin collapsed, and Northern Ireland has now been without a functioning devolved government for more than 500 days.
Sinn Féin MLA Linda Dillon said it was her party's view that in the absence of an executive, the political climate was "not conducive to reaching an accommodation or agreement on the outstanding issues".
"Sinn Féin's position is that the work of the commission should be suspended until an executive is reformed," she said.
"Other members of the commission - with the exception of UUP representative Doug Beattie - disagreed, and a number of meetings of the commission have been scheduled for June, July and August."
Ulster Unionist Party (UUP) leader Robin Swann said he was concerned that the commission could "disappear into a political vacuum at a cost of nearly £650,000".
He said his party, through its member on the panel - Doug Beattie - had recommended the commission be suspended.
"I am concerned, and I think the public will rightly be concerned, that further costs are being incurred at a time when the commission does not even have an executive to hand their final report to," he added.
The commission was supposed to report its findings in December 2017, but the Executive Office said work was "ongoing" and plans to implement the findings will be decided when a report is agreed.
BBC News NI understands that a draft report has been written, but any final report and recommendations would need to be brought to executive ministers for consideration - something that could not happen until devolution is restored.
On Saturday, BBC News NI revealed that the total cost for the commission, from when it was set up on 20 June 2016 to 31 March 2018, was £647,094.
About half - £330,020 - has been paid in that period to 14 of the panel's members for remuneration and expenses.
The Executive Office said the commission had been tasked with examining a range of "long standing, complex and challenging areas in relation to the expression of national and cultural identity" within Northern Ireland.
It is also "not possible" at this stage to confirm when its work will be concluded, the Executive Office added.
'Deeply disappointing'
A DUP spokesperson said the commission had an important role to play in providing recommendations relating to the issues it was tasked to consider.
It is "deeply disappointing that some of those who complain most loudly about flags continue to block devolution, meaning no ministers are in place to consider a report produced by the group," they added.
The SDLP and Alliance Party said they supported FICT when it was initially set up, but that the slow pace of output was concerning.
The commission, which has 15 members, is co-chaired by Queen's University academic Dr Dominic Bryan and community relations worker Neville Armstrong.
Seven members were appointed to the commission by political parties and eight were drawn from a recruitment process.
Five of those on the panel have links to unionism. It also includes a former Alliance Party special adviser, a former SDLP adviser and a former Sinn Féin councillor.
The only member who does not receive any money is the UUP MLA Doug Beattie, as he is an elected representative.
The commission was included as part of the Fresh Start Agreement, negotiated by the Stormont parties in November 2015.