Northern Ireland broadband deal 'will bring £1.2bn boost'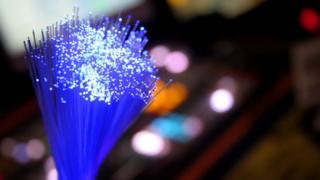 DUP deal money to boost Northern Ireland's broadband could potentially bring £1.2bn worth of benefit, a report for BT has suggested.
The telecoms giant has commissioned research on the impact of planned improvements in rural coverage.
The report by consultants DotEcon said the £150m package - part of the DUP deal to keep the Conservative Party in government - has huge potential.
The plan could help 140,000 households and businesses get ultrafast coverage.
The key beneficiaries would be in the Mid-Ulster and the Fermanagh and Omagh council areas, which "are currently the most disadvantaged in terms of high-speed broadband availability", said the report.
The report calculates that for every £1 invested, there could be eight times the return, totalling £1.2bn by 2033, including new jobs and better productivity.
The consultants used modelling from previous evaluations of broadband initiatives in other parts of the UK.
'Best in Europe'
BT stated the roll-out would be phased, but would be "largely complete" by 2021.
The company will bid for the work once it is put out to competitive tender by the Department for the Economy (DfE).
The department has previously stated that political parties and others would be consulted about how best to use the £150m, none of which has yet been released by the Treasury.
Mairead Meyer, BT's managing director of Northern Ireland networks, said the investment "could open a wealth of opportunities".
It would enable Northern Ireland "to compete alongside the best fibre networks in Europe", she added.